Television
14
Jan 10
There really isn't much to add about Billie Jean that wasn't mentioned in Tom's excellent piece for Popular, or indeed in this Freaky Trigger & The Lollards Of Pop episode where we heard Jackson's slightly ramshackle unformed demos of the song. So I will give you the one thing that always made me wary of Billie Jean, bar it being on an album that my family had already dismissed for being "silly". The name. Who is called "Billie Jean"?
So in lieu of saying anything about Billie Jean, here are some other prominent Billie Jeans, or Billies Jeans.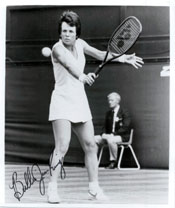 Billie Jean King: Probably the most famous Billie Jean, and almost certainly the most important female tennis player of all time. But was Michael Jackson a big tennis fan. It would certainly make sense when Mike says she is not his girl though, by 1983 she had been outed. Certainly if Mike chose the name to honour her, he would have been way ahead of the US: she did finally receive the Presidential Medal of Freedom from Barack Obama last year. But apparently Quincy Jones (who never liked Billie Jean anyway) wanted to change the name of the song because he though people would think it would be about Billie Jean King.

»
More