5
Jan 16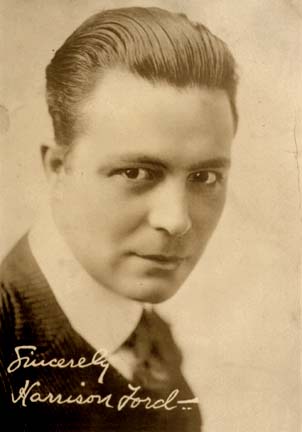 "Hi I'm Harrison Ford, the silent movie star with a somewhat unusual name, welcoming you to the first ten films in the Freaky Trigger countdown of the top movies of 2015. Now, truth be told I haven't seen any of these films on account of being dead for 58 years. I am however pleased in perusing this number forty to thirty one list that no films with my coat-tail dragging namesake turn up – a man whose acting is a wooden as his carpentry. Which is to say it is wooden, as that is what carpentry is; I was a silent movie actor and I am still not all that confident with my words, especially since my death. So sit back and see what talkie nonsense people seem to rate these days."
Thanks Harrison and I daresay if we were doing the 1928 poll Three Weekends with you and Clara Bow would have made the list. But we aren't and having had a charitable 24 responses we can call this inaugural film poll a success. Just a reminder that to make the list a film had to receive more than one vote (in the case of a tie, a film with more votes was place higher). Films with an (*) I haven't had a chance to see so I will semi crowdsource an opinion from those who did…
40: London Road (dir by Rufus Norris)

On the whole successful adaptation of the National Theatre verbatim musical about the murders of prostitutes on London Road in Ipswich, which as a sentence and idea shows the hoops which the film has to jump through to work. Some people loved the way real speech was twisted into rhythmic forms to highlight the characterisation, some people hated it with a passion.
39: Sunset Song* (dir Terence Davies)

A labour of love for Terence Davies, an adaptation of Lewis Grassic Gibbons classic Scottish novel. Apparently it looks fantastic, has some good central turns from Agnyss Deyn and Peter Mullan but was possibly a little too hang tied to the books to soar as a movie. Ewan's review here is tentatively positive.
38: Phoenix (dir Christian Petzold)

Post WWII a captured Jewish survivor of the concentration camp returns to Berlin nervous, shattered and with plastic surgery to hide her scars. She discovers her husband also survived the war and he sees her, and realises that her resemblance to his dead wife means he could use her to potentially get her inheritance. What sounds like a ridiculously melodramatic plot is contrasted with terrifically naturalistic acting and a devastating final sequence where nothing and everything happens.
37: The Martian (dir Ridley Scott)

Solidly crowd-pleasing adaptation of the best selling book, where Matt Damon is stuck on Mars and sciences the shit out of the situation. Star-studded, action-packed pro-science film with no villains, it stands and falls on the quality of its script, which Scott, a lousy director of late, cannot fuck up. Nevertheless, we really shouldn't be letting Matt Damon go anywhere, so we don't have to rescue him any more. Also, it is set about ten years in the future, there is no way someone is just stuck with 70's hits on an iPod, even if we have the happy outcome of Starman on rotation.
36: Spectre (dir Sam Mendes)

Personally I thought it was a pretty weak Bond movie, opening sequence notwithstanding, but a number of people threw it a bone. Craig seems weary with the role, and the two villains really embody the banality of evil, one side a government pen pusher, the other because we are all villained out with him. Still it had the usual visual wow, Lea Seydoux is a effective Bond girl and its almost worth it for disinterested Craig on the interview circuit.
35: Love And Mercy (dir Bill Pohlad)

Two films for the price of one, we get a pretty regular bio-pic of young Brian Wilson in his prime, creating his best music and slowly going off the rails. And at the same time we see an older Brian Wilson, falling in love with a carsaleswoman and how she helps him finally break free from the controlling influence of Dr Eugene Landy. Paul Dano is a perfect young Wilson, and John Cusack looks like an older Dano (without ever looking, or really acting, like Wilson). For all its flaws, the film has an interesting biopic half, mixed with a highclass Hallmark romance half anchored around Elizabeth Banks strong performances. Lacks a killer Manzarek moment though.
34: Shaun The Sheep: The Movie (dir Mark Burton & Richard Starzak)

One for the silent movie fans, Aardman's big screen leap for the kiddie pleasing sheep is actually the stop motion animators finest physical performance. The sheep don't talk, and their baa's don't get very expressive so it is down to the animators to sell the whole story and all of the gags. And like Aardmann at their best, the set pieces and gags are excellently set up, and the characterisation in the clay is fantastic. Truly one for all ages, it wasn't just nominated by people with kids!
33: Grandma (dir Chris Weitz)

A perfect little modern family comedy, irrascable lesbian grandmother, pregnant granddaughter looking for money to get an abortion. Grandma has a consistently funny and matter of fact script, consistently well played but mainly built around a very strong and comfortable Lily Tomlin performance. Julia Garner's frizzy haired granddaughter grows admirably in the film, but it knows its point, it avoids needless sentimentality whilst dealing with the most sentimental of topics and gets out under 80 minute. Terrific stuff.
32: Timbuktu (dir Abderrahmane Sissako)

So your in Africa and ISIS and their like have taken over your area. What does this do to you if you are a kid, a woman, a farmer, the resistance. Dripping with sadness, and framed and shot beautifully, Sissako threads moments of droll satire in and around his ultimately tragic story. Perhaps it is a bit broad in places, and is quite happy to settle on some beautiful imagery rather than build a complex narrative, but it is an undeniably powerful movie.
31: Ex Machina (dir Alex Garland)

There are two views of Ex Machina. One is seeing it as a small, deliciously creepy piece of thoughtful science fiction about artificial intelligence and gender roles. The other is to see it as the obvious first directed film of Alex Garner who has clearly read too many Tharg's Future Shocks in 2000AD. I sort of thought the latter, and its joys (including the best dance sequence of the year) were more in seeing a pretty classic AI movie made and being acted extremely well. Also notable for being the first of nine films released this year with Alicia Vikander in it, and probably her best.
"Hey, Harrison Ford (yes, that one) here again, and they all sound jolly interesting – except I don't know whata Bond movie is and that Ex Machina just looks like a Metropolis rip-off to me. Still we will be back soon with the next ten movies for me to catch up on the streaming beyond the grave services. Till then."
Comments
Add your comment
Top of page