4
Dec 11
Here on FT we love puns. We don't mean to but we do. And behind today's hastily arranged advent calendar window is probably the greatest pun to grace a TV Christmas Special ever. Even better than One Foot In The Algarve. Not necessarily that Christmassy, it blew away almost everything at Christmas on TV in 1985. I certainly remember the whole family huddled around the TV for this one, and it being really rather good, Indeed better than the standard episodes of the show.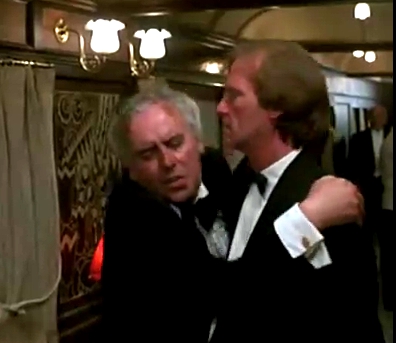 Its Minder On The Orient Express, which completely earns its punning name by, well, being an episode of Minder set on the Orient Express. George Cole was so settled as grown up Flash Marry Arthur Daley by this point that really all the writers generally had to do for an episode of Minder was just think of a scenario and the rest would pretty much write itself. Lovable rogues pepper British TV (we will see more in this list) but Terry and Arthur had a peculiarly 80's Bromance, and nothing was more bromantic than this jaunt on the Orient Express. Actually, that's not strictly true, its a classic example of the stories where Terry was desperate to be shot of Arthur (who here has split him up from his girlfriend so he can escape the plod on the trip on the Orient Express). But it was fun, and a darn sight better than another Agatha Christie.
More on Minder here (a proper 90's website!!!) including a link to the Minder computer game…
There is not much Minder on Youtube, but here is a compilation of all of the actor James Coombes scenes in Minder On The Orient Express.

Comments
Add your comment
Top of page