5
Jan 06
Kirikou and the Sorceress was a pretty fun French/African animated film from five years ago which deserved a much wider release. It did great box office on the continent but no distributor picked it up in the UK, leaving it to the BFI to flop it around. So why has this sweet kids film been left out in the cold in the UK and US?
Nudity.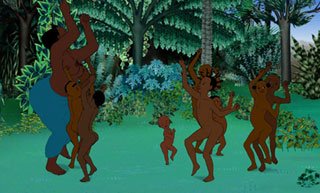 Kirikou (a smart baby) walks around stark naked. All the female members of his tribe (which is pretty much most of the characters) wander around without tops on. Stylised though they are, there is much mammary action. Clearly not in a sexual way, this is a film about a baby after all. So you can barely see it in the English speaking world (though you can get it on DVD).
Now there is a second problem. The hit film has spawned a sequel. Distributors cannot ignore the worldwide success of the film. What's a little bit of animated nudity against big bucks that could be garnered by Kirikou and the Savage Beasts?
Add your comment
Top of page