10
Dec 19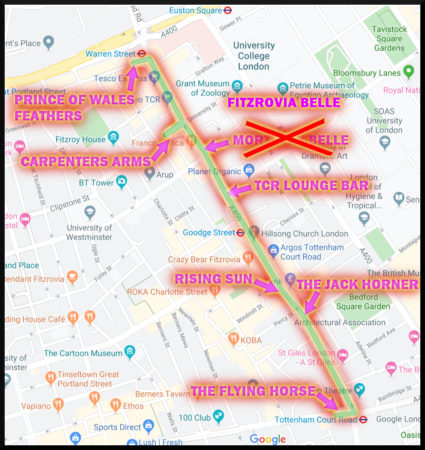 Twenty Years Ago (1999) I decided to organise a pub crawl on the quietest pub day of the year, and thus the Freaky Trigger annual between Christmas And New Year Pub Crawl (henceforth #FTABCANYPC) was born. Since then we have crawled annually on the 29th December (except from when it wasn't) around nineteen different parts of London. But for this special 20th anniversary I thought I would go back to the source, the very first route. I am not doing exactly the same pubs, some have changed their names (one four times), and a few are off the main drag. But I'd live you all to come and join the day of the year when you can celebrate friendship and London without it being tied to religious and/or calendrical bullshit.
The route on the day will be:
3pm The Flying Horse (Oxford St opposite TCR Station)
4pm The Jack Horner
4.45pm The Rising Sun
5.45pm The TCR Lounge Bar (previously The Bar @ TCR, The Castle and The Olde Surgeon)
6: 30pm Fitzrovia Belle
7:15pm Carpenters Arms (Whitfield Street)
8pm The Prince Of Wales Feathers (Warren St)
All are welcome, join at any time, we normally have one drink per pub – but it doesn't have to be alcoholic. The only real rule is that one of the pubs at least will be closed and there will be a last minute replacement… (Double chance cos its a Sunday).
Please come and celebrate twenty years of nonsense
Comments
Add your comment
Top of page