16
Dec 18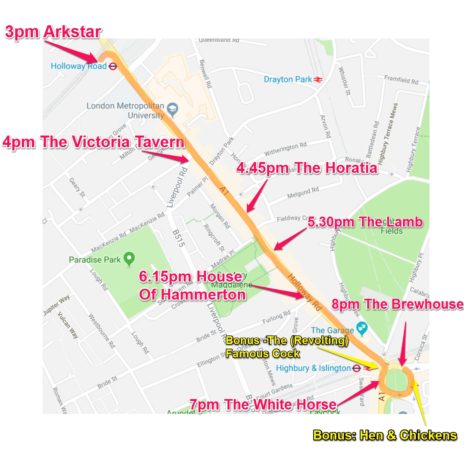 (A poker as in the kind that comes from a set with a shovel, and a brush that is more ornamental than useful when setting a fire)
Twenty years of the Freaky Trigger Annual Between Christmas And New Year Pub Crawl (or the #FTABCANYPC) and this year we are discovering what all the food and drink supplements are calling "that bit of Holloway Road that has a good Malaysian restaurant on it". Starting at 3pm on the 29th December, we will take in some interesting architecture, some refurbs, some new purpose builds, a Spoons and a pub which purports to have a crazy golf course in it. I KNOW, right?
The route is:
3pm Arkstar (its in a railway arch just to the left of Holloway Rd tube)
4pm The Victoria Tavern: Yet another refurb of this cavernous pub where I ate two Scotch Bonnet Chilis and sand ABBA's Does You Mother Know.
4.45pm The Horatia: Big cavernous pub with decent burgers
5.30pm The Lamb: A nice sympathetic recent pub refurb
6:15pm The House Of Hammerton: Hammerton Brewery Tap
7pm The White Horse: The Wetherspoons that used to be the Highbury Working Men's Club
8pm The Brewhouse – Brewpub and half decent food for the evening.
There are a couple of extra credit pubs around Highbury I have added to the map which are a bit small but completists and chicken fans might want to pop into.
The hashtag is #ftabcanypc20, I'll be at Arkstar from 3pm. Feel free to bring friends, alcohol is not compulsory.
Comments
Add your comment
Top of page