14
Dec 17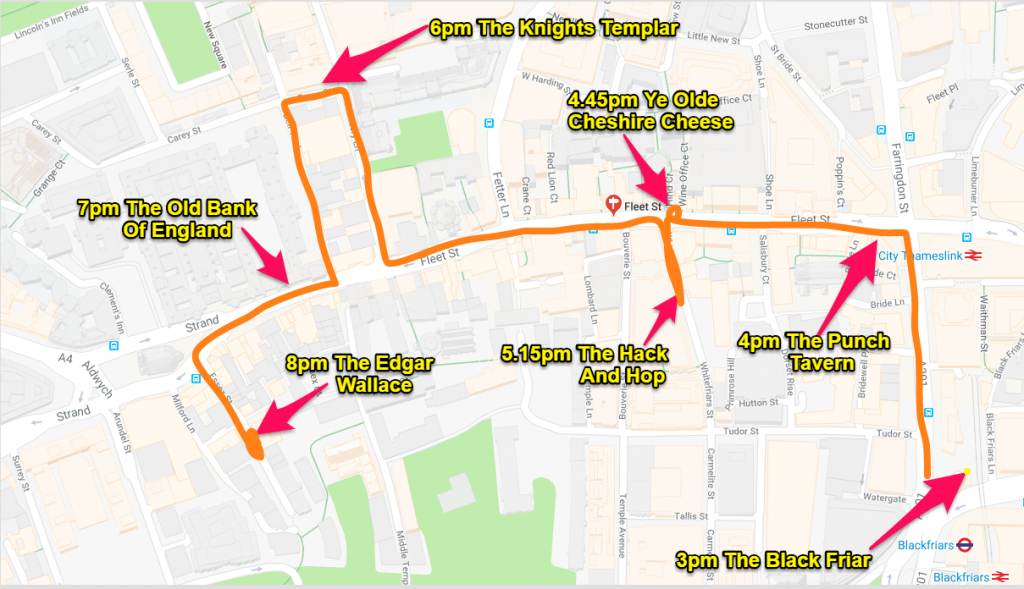 The Pub Crawl turns 18 – old enough to see a Tarantino film legally if it should so desire.
Every year, on the 29th December* between Christmas and New Year I run a pub crawl in a geographical location and this year it is time to follow the old dame of the presses, Fleet Street. The hot metal may have now cooled, but there are still tales to tell… And of course pubs of architectural interest. Truth be told there are twice as many pubs on this route, so if any are closed (a pub crawl tradition) we will have somewhere to go.
So we start at the Black Friar, next to Blackfriars Tube/Train/Bridge, then wend on and off Fleet Street to end at the Edgar Wallace. Here's the route in full below the cut:
3pm The Black Friar
4pm The Punch Tavern
4.45pm Ye Olde Cheshire Cheese
5.30pm The Hack & Hop
6:15pm The Knights Templar
7:00pm The Old Bank Of England
8pm The Edgar Wallace
Most of these pubs do food of varying quality. There are other pubs on route in case the usual happens (one is shut) or you want to mark up your crawl card (there is a good chance of a side card here).
Come along, bring your friends. Pub crawls only turn 18 once.
*Except when it wasn't
Add your comment
Top of page