24
Sep 19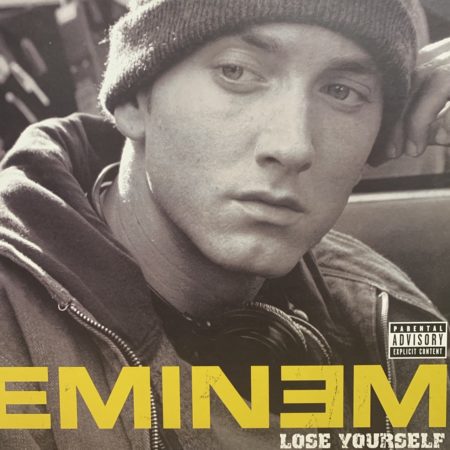 There's a convention in DC Comics – started by Frank Miller with Batman in the mid-80s – of "Year One" stories. You take an established character and rewind back to the beginning of their career, digging into their early doubts and missteps. These stories have an aura of seriousness to them – they're reaching for the definitive, and there's a sense that everyone involved is taking a little more care than usual. "Lose Yourself" – and maybe the 8 Mile film it comes from – is Eminem: Year One, an origin story for 21st Century America's newest super-creep.
And true to the genre, he's taking it seriously. Mostly in Popular we've seen Eminem playing the trickster, a dangerous goofball (first convincingly, then less so). When we've seen him get serious, on "Stan", he's dropped so far into character that what happens is more stage monologue than rap. But that won't work for "Lose Yourself", which has to be rap, straightforward rap, good rap, because the whole point of the song is bringing the moment to life when you step up, just you and your mouth, and let it flow. The centre of the track needs to be Eminem (as hero Rabbit) doing just that.
Around the edges, though, he can play with genre in more unusual ways. "Lose Yourself" is one of Eminem's best-sellers not just because it's good, but because as the hot track from a #1 film about rap it's acting as an ambassador for the entire genre to a whole swathe of the cinema audience that doesn't have an intimate knowledge of how rap works. Its production gives it a helping hand by nodding to quite different conventions – the brooding, rhythmic 80s rock of Flashdance or Survivor's "Eye Of The Tiger", music for films about gutsy battlers, fighting their way through a cruel world against the odds. Those resonances cue up that "Lose Yourself" is one of those stories.
It tells that story exceptionally well. The first verse of "Lose Yourself" is one of the best-known in Eminem's career, a story of a scared kid stepping up to the mic and failing, which is entirely expected in Act 1 of a film but much less so in Act 1 of a hip-hop track. We don't (or didn't) generally expect rappers to inhabit humiliation and fear in the visceral way "There's vomit on his sweater already – Mom's spaghetti" does. The rhythm Eminem uses captures some of the nausea – he paces his stresses like a yo-yo winding out and jerking back ("snap BACK to reality OH there goes gravity OH there goes Rabbit he CHOKED").
The second-verse Rabbit fails again, in a different way from the first, seduced and abandoned by success. In between the chorus is a barbed motivational speech – lose yourself, but you only get one shot at doing that. (Trust the force, Rabbit.) Again, this is hip-hop pushed into the familiar genre tramlines of the talented-kid movie, where the stakes are at their highest but you win success by a combination of trusting your innate, startling talent and respecting the craft you've adopted.
So let's respect that craft and compare "Lose Yourself" to a couple of earlier examples of the hip-hop origin story track. The most celebrated is Notorious BIG's "Juicy", opulent where "Lose Yourself" is tense, presenting Biggie's early life from a point of gentle wonder at all he's managed to do. BIG is careful not just to handwave at the tradition he's in but count off his forerunners by name – "Every Saturday Rap Attack, Mr Magic, Marley Marl". He's born from a collective. Meanwhile, Ghostface Killah and Mary J Blige's "All That I Got Is You" stresses family strength in the midst of hellish poverty.
In both tracks the rise of the rapper is rooted in community or family: I love those songs, more than "Lose Yourself", and I love them because they leaven themselves with nostalgia or sentimentality. "Lose Yourself" rejects those comforts for a world of battle. Its searing third verse is full of a desperation to tear away from circumstances – "I cannot grow old in Salem's Lot!". As a piece of rap craft, it's a tour de force. Hear the way, for instance, Eminem incarnates his narrowing options by snapping his lines in two so their phrasing, amid his usual press of internal rhymes, comes out broken and awkward ("…get by with my nine to / Five and I can't provide the right kind of / Life for…") – it's as 'poetic' a device as anything in "Stan", and more exciting to hear.
The problem with Year One type stories in the comics is that, for all their craft, they're something of a conservative pleasure – the delight in them is of pieces seen strangely, then fitting into familiar position. "Lose Yourself", sticking closely to the cinematic coming-of-age formula, does much the same. Which means there's not a lot of room for the more vulgar or mercurial parts of Eminem – it's his most respectable track, the one where he's not trying to shock or joke. And so for all its autobiographical aspects, it's the one where he seems least himself.
8
Comments
Add your comment
Top of page