6
Sep 18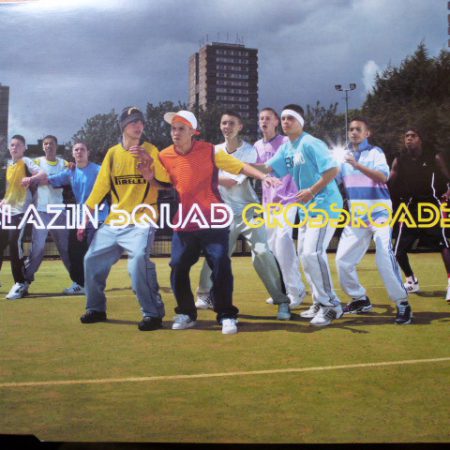 If Blazin' Squad had never existed, would it have been necessary to invent them? You suspect record labels would have given it a so-solid try: a hydra-headed rapping crew, but full of youthful good looks and free of nasty predelictions? Too good to resist, at least in this weird, early-00s phase where it's equally clear that the public want to buy rap records (maybe even British ones!) and the labels don't have much idea what will or won't cross over.
In fact, before I did my research, I assumed Blazin' Squad were 'manufactured'. Now I'd prefer to call it 'sculpted' – from the marble of an eager bunch of North London schoolfriends somebody carved this hit cover. Why "Crossroads", though? A proven earworm; a familiar chorus and a structure with plenty of space for voices to gather and mingle.
But the Blazin' Squad cover is a poor relation of the Bone-Thugz-n-Harmony original. The rapping isn't entirely the problem; the damage is done with a structural shift in the song. The original is an exercise in beautiful delay, holding off on the chorus for two minutes as the group trade stories of loss and pain, a range of voices overlapping, dipping, bouncing off one another, phrases emerging from the hubbub – "I miss my uncle George"; "I don't wanna die". When the chorus finally hits it's an extraordinary, redemptive moment, a testimony that the singers don't have to endure the hurt and fear life brings on their own – and an acknowledgement that this resolution might only be found in death. The image of the crossroads, in the context of Black American music, is a powerful, mythic one – a haunted place, where the walls between this world and the next are thin.
Blazin' Squad's effort loses that resonance. It gets the chorus out of the way quickly and returns to it often, where Bone-Thugz only use it twice. That numbs it through repetition, turning it from a glimpse of a better world into a kind of self-help mantra: the crossroads as a place where "things can turn around", between fame and mundanity, not life and death. The rapping here is simply turn-taking, with the repeated "S-s-see you" lines filling out a lack of ideas.
That all makes the record sound awful, when it's not – it's just much worse than its template. Blazin' Squad couldn't take on the original's thematic weight in any case – they're too callow, and it's better they sound enthusiastic than pretentious. Some of them have a yelping, bolshy charisma – "Hey you! Get off the train!" – and the sweetness of the song's melody can't be spoiled. The record's marketing, at a time when the post-garage sounds of London were in such ferment, leaves a bad impression – an industry at its own crossroads, actively looking for a safer version of new music, like nothing much had changed since the 1950s. But the record itself is innocuous.
4
Comments
Add your comment
Top of page