17
Jan 16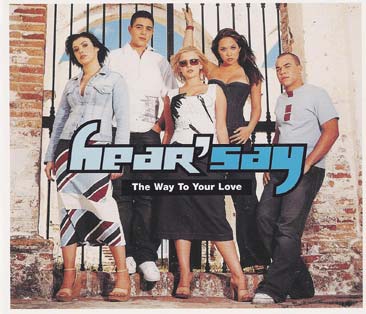 After the story, the appendix. Back in March, 550,000 people put a full stop on Popstars by making "Pure And Simple" number one. Around 1 in 7 of them showed up for the inevitable, pointless follow-up: "The Way To Your Love" makes it here by simple momentum. It exposes the problem with reality TV acts – the way the end of their story isn't naturally a beginning of anything else.
Still, you might imagine that was enough interest for Hear'Say to eke out a career. But they were never more than the sum of their parts – recall how the viewing figures for Popstars plunged once the band was actually formed. And those parts – Kym and Myleene especially – were canny enough to realise they'd won themselves a future that would vanish again if they spend too much time flogging this nag.
Behind all that, a song. One which helps prove why the group had no future. The disjoint of five voices had been a potential selling point of "Pure And Simple", at least – seeing how they might work together was a hook, of sorts. Here's where it became obvious that the answer was "they don't". "The Way To Your Love" is built by producers Stargate along Backstreet Boys lines – individual voices rising together into a unity of yearning. As such, it's serviceable, but it doesn't fit a mixed-gender group and Hear'Say can't give it the lift it needs. "We'll be stronger together / Than we would be apart", this record pleads. It's a lie, and they know it.
3
Comments
Add your comment
Top of page