6
Jul 15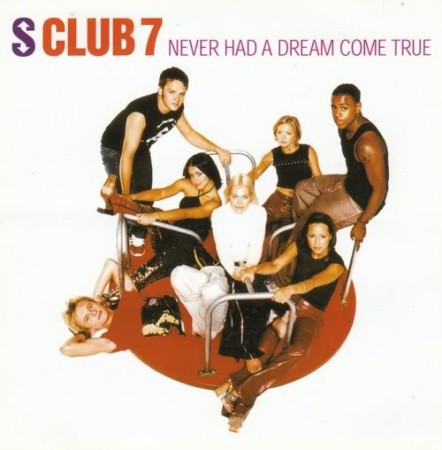 "Never Had A Dream Come True" is enjoyably drippy, but does nothing to shake my sense that S Club 7 are the blandest proposition of this pop era. Like their other early records, it's aimed at kids, and it feels aimed at kids: a Fisher-Price heartbreak set, a ballad which is as much a teaching aid for what ballads are like as a track in its own right. It doesn't do its job at all badly, though. It fills the mulled December ballad gap the Spice Girls left behind, and the decision to drop the band element and give the whole track to Jo O'Meara works, gives the heartache a consistency and intensity the song probably wasn't strong enough to sustain with a group vocal. There's an air of innocent sincerity to this despite its functional TV show origins, one that lets it get away with its purely textbook sentiment. It's an ordinary song done as well as it could have been.
Its lack of features makes "Never Had" a good moment to talk about its plush sponsor, Pudsey Bear, and the BBC's annual Children In Need telethon. Like the BBC that runs it, Children in Need is an umbrella organisation, essentially redistributive, where eye-catching children's causes that could probably manage without its support are used to raise skiploads of money; money that can also be funneled to smaller, less photogenic, just as worthy projects. Also like the BBC, Children in Need is respected in its profession and more generally loved by the public. It's been running since 1980, bear mascot and all, a fixed point in the Autumn schedules. Of course, it didn't take long to dabble in charity singles.
But unlike Comic Relief, which has scored a bullseye – sometimes two – nearly every year it's run since 1995, Children In Need's hitmaking record has a fascinating trace of BBC inefficiency. The year Comic Relief was starting its run, with 1995's "Love Can Build A Bridge", Children In Need put forward the number sixty smash "You Better Believe It (Children In Need)" by Patsy Palmer and Sid Owen. It's not flopped quite as poorly since, though it has a potent record of picking artists just past their peak, backing unloved reunions ("Headlines (Friendship Never Ends)" bore its brand), and few charity records are as dumbfounding as Gary Barlow teaming up with a pop-grime package tour line-up for a version of Massive Attack's "Teardrop". Only the BBC – and Children In Need – would greenlight that. It struggled to #24.
The nature of Popular is that we'll meet the times Children In Need get it right, which are mostly less interesting. "Never Had A Dream Come True" is probably the best of them, glutinous in spots – that bloody stardust effect again – but reputable, easy to imagine kids buying and liking in its own right. Hard to object to. Except that, inevitably in a market defined by a tight turnover of release dates – this kind of TV tie-in pop could gradually begin to eat up the chart calendar. First Comic Relief, then Children In Need – why not other charitable moments? And if a charity TV show can get a hit more or less to order, why couldn't a commercial one? The reality TV era – which would eventually give O'Meara enough rope to end her dreams for good – was well underway by now onscreen, and looms ahead of us on Popular. It would part viewers from money in ways that made telethons seem herbivorous, and the charts would be fully implicated.
4
Comments
Add your comment
Top of page