12
Apr 15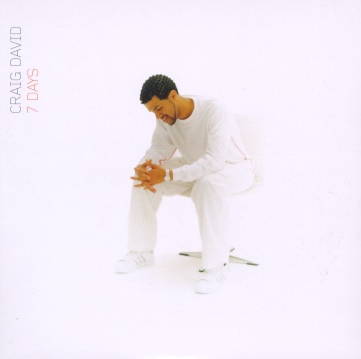 When Craig David's manager heard the chorus of "7 Days" for the first time, he knew at once the 17 year old would be a star. The song made him. It also doomed him. "7 Days" is the most immediate single of the year, and also the easiest to parody. A committed, self-serious lad, David chafed at the attention of comedians, particularly Bo Selecta!'s Leigh Francis, whose consistent, surreal use of the singer was blamed by David for sabotaging his career. But "7 Days" is so ridiculous – and so catchy – that it attracted piss-takers like piranha to steak. That doesn't make David's hurt and regret less real, or void his case – the relationship between pop music and the rest of British culture, comedy included, was on the turn. But it doesn't make "7 Days" less funny.
Perhaps I'm taking too much for granted, here. Surely some people listen to "7 Days" and hear the soulful, seductive record Craig David intended it to be. I find that easy to believe, but also hard to imagine, so I'll try and unpick why it doesn't work as that for me, even though it feels like explaining a joke. The central problem is that the chorus – and the title – sets itself up as a classic days-of-the-week riff, and then blows it, folding the last few days into "making love". That's poetically unsatisfying, and also turns "chilled on Sunday" into a punchline. Worse, the rapid cadence of "and on Thursday, Friday and Saturday" concertinas the making love section, making it seem rushed. The image that comes to mind isn't four days spent in the sensuous reverie implied by the delicate arrangement and David's cooing voice, but four days of rapid, trousers-round-the-ankles banging. Accurate enough, no doubt – we're talking about an 18 year old here – but sophisticated? Not really.
Things get worse when you listen to the verses (which, to be fair, I suspect almost nobody did). On "Fill Me In", David's eye for the specific turned the risky fumblings of teenage lust into something evocative and dramatic. On "7 Days", the detail is weirdly misapplied. The woman Craig falls for is completely anonymous – "a beautiful honey with a beautiful body" – yet it's important to note that they met at "quarter past three" and she gave him a "six digit number". The clever touch of having the rest of the verse framed as David bragging to his friends sets up the tantalising idea that the narrator could just be making all this stuff up – but the song doesn't follow up, instead detailing the date and seduction at length, but never in detail. In the end the mates' incredulous question – "Was it for real?" is the most credible moment. The whole thing sounds like what it is – a wannabe Casanova's juvenilia, a seduction narrative written by a barely experienced kid.
There's no harm in that – teenage boys brag, and dream of having things to brag about. In its way, "7 Days" is as authentic as "Fill Me In", except it's a product of awkwardness, not a song about it. And whether intentionally or not, "7 Days" is as funny as it is immediate and prettily executed. Heard a song on Monday, sang it in the pub on Tuesday, made our own one up by Wednesday… and so on. But where do you go after it? Once "7 Days" is loose in the world, can Craig David be taken seriously? Or as seriously as he wants to be, at any rate.
Leigh Francis thought not, and saw in Craig David's earnest but callow self-presentation the perfect star to serve as the bizarre centre of his show. Compared to some celebrities, David got off lightly from Bo Selecta! – he was ubiquitous, but Francis doesn't seem as hostile to him as he was to people like Mel B or Jordan. Francis has dismissed David's claims of career-wrecking, pointing out that the singer's star was on the wane before Bo Selecta! launched. And the sheaf of top ten hits David did score across the rest of the 00s show a man with a very limited range – the delicate soul-pop of his first two solo hits seems the beginning and end of his abilities, and as the UK garage element ebbed out of the music, most of the interest went with it. Would he have shown more ambition without the mockery? It's impossible to say.
Ultimately, the signficance of Bo Selecta! isn't really in its effect on any individual career. It was the attitude to pop music and culture that was new. The rise of alternative comedy intertwined with the rise of post-punk and indie music. In the 80s, alternative comedians found allies in some areas of pop – Madness and Dexy's showed up on the Young Ones – and largely ignored the rest. Spitting Image touched on the most obvious targets but mostly had loftier ambitions. In the 90s, comedians and Britpoppers shared a constituency, and often a stage – Vic Reeves and the Wonder Stuff, Keith Allen and Blur, Baddiel and Skinner and the Lightning Seeds. They mounted a cultural takeover together – and then, suddenly, the pop end of the deal collapsed. Leigh Francis' generation of comedians found themselves in a pop landscape where the music they felt most affinity for had fallen from grace, replaced with something that seemed the most obvious of targets. "I'm sick of you little girl and boy groups, all you do is annoy me…"
And so the minutiae, and the personalities, of pop culture found themselves in the crosshairs of comedy in a way they hadn't been in twenty years, if ever. Bo Selecta!, and other shows stuffed with cultural detail and references, work on familiarity with, as well as contempt for, pop culture – a student viewer knew who newly famous pop stars like Craig David were, in a way that the adult viewer of a 60s or 70s impressionist might not have done. And the interesting thing is that this easy superiority became a default tone of British music coverage itself: Miquita Oliver and Simon Amstell's enjoyably world-weary approach as presenters on Channel 4's Popworld was immensely influential, giving broadcast media a snide wit the UK music press had always employed.
Mockery was an inevitable development given a pop world where access to the truly global megastars was so tightly controlled, and local musicians were hardly likely to retain much mystique when they increasingly came from the same university or drama school backgrounds as presenters. Sometimes you got the feeling those presenters and comedians – and later, the bloggers and broadsheet columnists – loved pop, in all its foolishness. Sometimes you got the feeling they despised it, or felt it had lost some invisible legitimacy after Britpop failed. Whichever it was made little difference to the outcome – snark reigned.
Was that a bad thing? It depended entirely on the targets. Reverence would have been the wrong reaction to the world of "7 Days" and Five + Queen. But the new atmosphere would suit some stars more than others, and Craig David – a serious young man who sung a silly song – choked in it.
4
Comments
«
1
2
3
All
«
1
2
3
All
Add your comment
Top of page