6
Feb 15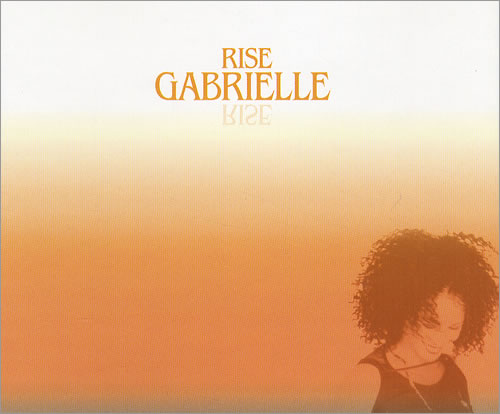 It's not only teenagers who can take pop as a model for their circumstances. At the time "Rise" was in the charts I had a friend who related to it very strongly – slowly getting over a passionate, disastrous long-term relationship. For her, the song was a precious co-ordinate in mapless territory. Privately, I disliked it: its frankness, its straightforwardness, its patience in picking over and cataloguing the bones of a feeling. It felt too grown-up, because I was none too grown-up.
Of course "Rise" immediately sounds serious, worthy, expensive: Dylan doesn't come for free. Except this time he did – he liked the song enough to give a sample away, responding to its simplicity perhaps (or just in a good mood). Not just any Dylan either, "Knocking On Heaven's Door", a song we last met pressed into service as a threnody for murdered kids. Gabrielle calls on it for a redemption and empowerment story. To be knocking on heaven's door is to be almost dead, on the brink of giving in – but she uses Dylan's ruminative, repeated hum as something cleansing: a means of turning away from that point, stepping back and rebuilding. Not forgetting – the singer is still thinking of her ex, but she ends the song only scarred, not wounded.
It's a very January record – slow, a little chilly, heading gingerly towards its new start. The arrangement, beyond those mantric Dylan hums, is steady – a slow tap of snares for the rhythm, and the most interesting thing in it a little shiver of strings deep in the mix near the start of the final verse, a last haunting of the singer by her past. Mainly, "Rise" rests on its sample and on Gabrielle, who gives a smooth, deliberate performance with the occasional icy touch – "Colder / In my thinking". My initial judgement was more or less right, if too harsh – this is music for adults: resonant in particular situations, but comfortable otherwise.
There was a lot of it about. After the gaggle of tweenpop, Europop and boy band newcomers of the last two years, the 00s begin with a strange 90s highlights reel. It's fully ten songs before we get a number one by a new face to the blog, someone who had no involvement in chart-topping hits in the previous decade. Until then there's a sequence of familiar names – comebacks, one-offs, and the dregs of earlier albums – all of which helps to reinforce the sense that this is a decade that hasn't quite got started yet. Much of it, too, is pitching for a mature market, buyers for whom the pedigree of BRIT Awards is reassuring. This, at the time, was what I fretted meanly against – now Gabrielle's sensible soul-pop seems a lot rarer than it did then. More sympathetic, too. But not, unfortunately, all that much more interesting.
5
Comments
Add your comment
Top of page