22
Dec 14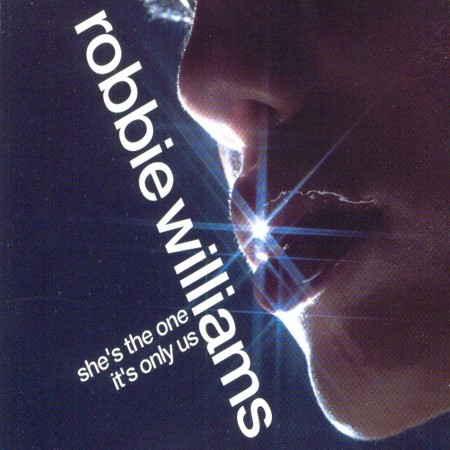 And so the 90s drain away, with a plughole gurgle of third and fourth singles from hit albums, marking time before the Christmas and Millennium big guns are fired. "She's The One" is the first in a minor subgenre of hit, Robbie Williams Ballads That Want To Be Angels. The success of "Angels" established one mould for Robbie, something he might be uniquely good for, and naturally he tried to hit that target again a few times. Just as he'd begun by jumping tracks between boyband high life and post-Britpop lairiness, so "Angels" stood as a chimeric blend of 90s ballads, an arms-on-shoulders lads night out belter crossed with heartthrob devotion, "Wonderwall" with just enough Westlife spliced into its DNA.
"She's The One" is a lifeless, pleasant enough execution of the same idea, so much so that I was surprised Guy Chambers didn't write it himself. In fact it's a cover of a World Party track, by Chambers' sometime colleague Karl Wallinger. It won an Ivor Novello the year "Angels" hit so big, which makes the concept obvious: a song with pedigree meets a star with pedigree. Success, indeed, follows. But compared to "Millennium", or even throwaway AA-Side "It's Only Us", Robbie doesn't sound that interested in "She's The One". The Beatley harmonies that blanket the record once it gets going give this its patina of Novello-winning class, but the song irons the cheek out of its singer. Wallinger huffed and puffed about his track being handed to Williams, but he had it wrong: if anything, Robbie is too reverent here.
"It's Only Us" is sprightlier, at least. Written for a football videogame – I imagine eyebrows were raised at "we all need a decent ruck / where it's all kicking off" – it's Williams back in the ironic rabble-rousing mode of "Millennium", and sounding like he enjoys it. Meanwhile Guy Chambers indulges his every new wave whim, up to and including a laugh-out-loud Farfisa organ solo that's the most – only, maybe – exciting moment on either song. Both these songs are minor pleasures even relative to Robbie's catalogue: "It's Only Us" wins by being self-aware enough to know it.
4
Comments
Add your comment
Top of page