15
Dec 14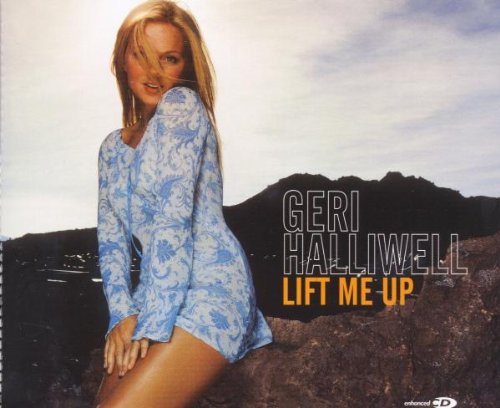 Geri Halliwell may have broken away from her former band, but she knew a good release schedule when she saw one: the singles from Schizophonic form a rough parallel to the singles from Spice. The in-your-face pop manifesto; the upbeat follow-up; a smoocher as the nights draw in, and then a bit of disco. But just because she could retrace her steps didn't mean she should – that master plan held one obvious flaw. When the Spice Girls did their big ballads, Geri was kept firmly away from the vocal limelight. On "Lift Me Up", she gets a slowie all to herself. It doesn't go well.
I'm not a technical expert on pop vocals, but it seems to me Geri Halliwell has two problems as a singer: she can't hit the notes, and she can't get the rhythm right. Beyond that, she's fine. Give her a wicked cackle, an ad-lib or a half-spoken interlude and you have a song that plays to her strengths. "Lift Me Up" does not: it strands her in a boggy tract of mid-paced sentiment, which she tackles with the hearty conviction of a dog-walker on a wet morning. "It's a WON-DER, baby it's YOU and I" – her voice hits the stresses like wellies hit a puddle. Even without the bum notes, this is desperate stuff. Thirty seconds in to "Lift Me Up" and I'm wincing – if it steps back a little from the precipice, it's only because the production smothers Halliwell's performance, not because she improves.
It's surprisingly rare for a number one to be completely ruined by its vocals, but "Lift Me Up" manages it. Still, not only is it here, it won a 'chart battle' against an Emma Bunton dance collaboration: Geri's determination was obviously as strong as ever, and the attraction of her as an idea of a pop star hadn't yet faded. Imagined with a different singer, "Lift Me Up" is wet lettuce, more placid and soothing than uplifting, but there are far worse ballads – and a few worse records – to land at number one. This is a shoddy record, though, and there's no greater indictment than "Lift Me Up" of the buggins' turn system of one-week wonders and fanbase fluffing that determined what got to the top as the 90s sputtered out.
2
Comments
Add your comment
Top of page