13
Nov 14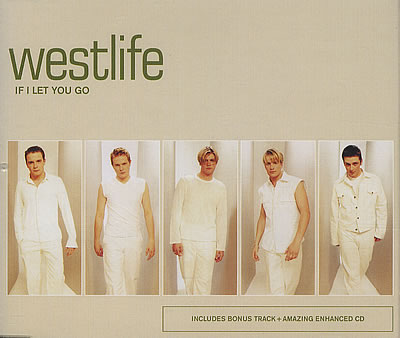 "If I Let You Go" and "When You Say Nothing At All", back-to-back number ones from the Louis Walsh stable, each have a job to do. Westlife's song needs to cement the success of "Swear It Again", Ronan's has to establish him as a credible solo star, and make a case for what kind of solo act he's going to be.
And "When You Say Nothing At All" absolutely does establish what kind of solo act Ronan is going to be. A very boring solo act. It's the simple blueprint Boyzone used on "You Needed Me" – take a big-hearted country ballad and let Keating loose on it. Not that Ronan is precisely a 'loose' kind of a singer. His reading of "When You Say Nothing At All" is tediously measured, evoking not a love so strong it needs no words but a more complacent, contented silence: a couple secure in one another's inertia.
I'm not claiming this as a controversial statement, but I think Ronan Keating is a dreadful singer. He has one dominant tone – the mildly discomfited sincerity he uses here. And on the evidence of the seven number ones he's plagued me with, he seems basically incapable of feeling his way into a lyric and delivering any kind of surprising, empathic or thoughtful reading. I assume he's improved, since he's sustained a long stage career, but he's one of the most laboured, limited pop stars I've encountered on this blog.
A listen to either of the other hit versions of "When You Say Nothing At All" shows it. This isn't particularly my kind of song, but it's a song with flexibility and potency. The first version, a rich Nashville ballad arrangement by the teak-voiced Keith Whitley, feels like a celebration of mutual strength in a relationship. Whitley sings the words to be permanent, like he's etching them into something. The second, a starker, subtler arrangement designed to show off Allison Krauss' voice, catches some of the potential wonder and discovery in the song. Krauss is a clearer, more beautiful singer but approaches the words with deliberate discretion, as if we're present at the moment she realises how much their subject loves her.
Ronan, meanwhile, bleats his way through the song and shoves a bit of pipework on the end. Feeble.
And a contrast to "If I Let You Go", which gives the impression of being thought-through in a way this take on "When You Say Nothing At All" isn't. On "Swear It Again", I stressed quite how much Westlife weren't a typical boyband – they were aiming for something a lot broader (and more stable, in terms of audience passion). Naturally, to spite my idea, the second single is the most boyband-ish thing they ever recorded: it could easily be the Backstreet Boys.
It could very easily be them, in fact, since the songwriting and production on "If I Let You Go" are by Cheiron Productions, last seen on "I Want It That Way" and before that ushering in the next decade with Britney. Cheiron's (fairly extensive) work with Westlife is mostly ignored when people talk about their impact on 90s and 00s pop – it doesn't quite fit whatever frames (innovation, pure pop sensibility) you want to impose on the Cheiron story. Also, to be fair, there's a reason why Per Magnusson – the co-writer here – isn't as celebrated as Max Martin. "If I Let You Go" is a workmanlike, catchy pop ballad, but very far off a masterpiece. But that level of competence is more than Boyzone ever managed, so calling in the Swedes is paying off immediately.
"If I Let You Go" has a few naff touches – a nasty, studs-up key change for one – but some nice ones too: the fake mellotron noises at the top of the second verse, or the fey Charles And Eddie style "oh yeah" interruptions. The lyric, much like "Swear It Again", finds Westlife at a moment of crisis – are they going to split up with their lady? No! For that would be "taking the easy way out", and, however tempting, that is something an Irish boyband would never do.
This problem-resolution structure is as corny as the one in "Swear It Again", but it works as a means of creating more tension than Boyzone ever did. And it lets Westlife and Cheiron do a nice bit of business on the "Once again, I'm thinking about taking the easy way out" line – playing it first as a genuine worry, and then with a smirk and far lighter backing, to show the decision's been taken and letting "If I Let You Go" earn its more bombastic final choruses.
It's the song's best move – nothing special perhaps, outside the overall context of a bland track. But it shows that, at this early stage, there's an effort and care going into Westlife's work that Boyzone and a lot of UK pop rarely gave much sign of aspiring to. Both the conclusions here – Ronan as utterly unadventurous, Westlife as a sparkier, fresher Irish Model – are going to come under imminent pressure. For now though, Westlife are making the better moves.
5
Comments
Add your comment
Top of page