3
Oct 14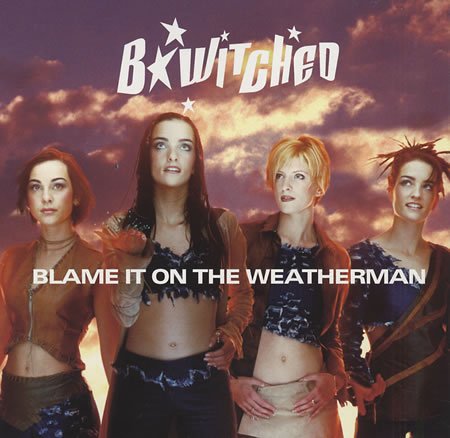 Arriving a few weeks after Britney, "Blame It On The Weatherman" could be a sad afterthought, forgotten jetsam from a swept-away moment like Frank Ifield's "I'm Confessin'", his last number one released into the teeth of Beatlemania. Instead it's a delightful last hurrah for the tweenpop British and Irish bubblegum of '98: not the most exciting or best-selling record of the time, but one of the sweetest.
"Weatherman" starts off sounding like a decent imitation of Natalie Imbruglia's "Torn" – searching, slightly introspective acoustic pop, already an interesting step away from the grinful sound of B*Witched's first two singles. It has what turns out to be a false chorus – "Won't blame it on myself…" – then a rather lovely passage rising up to the actual chorus, which is when things get more dramatic. The clouds burst – kettledrum claps, a downpour of pizzicato and an open-armed Edele Lynch welcoming the cinematic deluge. "The rain goes on!" – it's a thrilling hook, throwing open the doors on a forgotten world of big-production light-entertanment pop. It's the moment B*Witched lean into the Nolans comparisons. "Weatherman" could – in spirit if not quite in style – be from the 60s or mid-70s, or whenever you'd want to place a half-remembered childhood hit: for all the tempest, there's something heartening about this record, cosy and familiar. An impression cemented by the break in the clouds on the "Maybe it won't change…." middle-eight, with backing vocals that sound like contented mews.
"Weatherman", a widescreen song humbly released as a fourth single in an album cycle, puts the enormous promotional machine behind a Britney into sharp contrast. Bubblegum has no long term game plan, no artist development – the likes of B*Witched try a thing or two, have hits until they don't. and that's that. That's why seasons of bubblegum – like 1998 or 1969-70 – rarely produce lasting stars, but often produce records as charming as this.
8
Comments
Add your comment
Top of page