12
Aug 14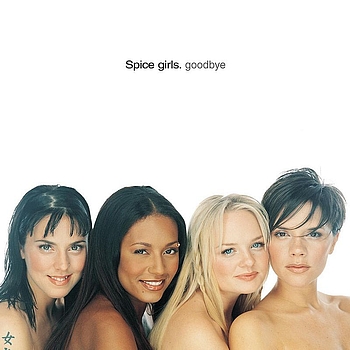 "Viva Forever" had been the Spice Girls' unofficial break-up single – its themes (and wistful qualities) well able to shoulder the job of seeing Geri Halliwell off. What need for "Goodbye", then? The song existed in demo form pre-split but was gussied up into a statement by band and songwriters afterwards. Could it feel like anything other than a cash-in?
Perhaps not, if it had just been about Geri. But momentum was flowing away from the band, whether they knew it or not. "Goodbye", a non-album single meant publically to cap the Girl Power era and launch a new, four-woman one, just felt like the end, full stop. "It's not", the chorus smoothly protested, but events, and the vibe of the song itself, honoured its title as a not-all-that-well-hidden intention.
I've praised the Spice Girls, by and large: what to say now it's time to bury them? There were three things the group did very successfully, three sets of Spice Girls overlapping in time and sometimes on the same song. First of all there was the gang – the group of friends rampaging through a suddenly staid pop scene, standing up and shouting out for girls, flinging around good advice and better hooks. The second Spice Girls were balladeers – crafters of lavish, sometimes exquisitely done slowies. And the third version, surfacing after their lightning conquest of British music, saw them as pop's curators and rewriters, pastiching genres and adding an upbeat, export-friendly spin.
Each of these versions was less exciting than the last, but all of them released records to make you gasp or grin: for the two years of their pomp, the Spice Girls' hitrate was marvellously high. So too, you'd have thought, their level of impact. At the point "Goodbye" came out, the charts had been full for a season of acts very clearly signed or promoted in the immediate wake of the Spice Girls. The band might be breaking up, but their pop legacy seemed already secure.
Instead, "Goodbye" marked the end of something. The British and Irish bubblegum that dominated 1998 turned flavourless, and even the marketing model the Spice Girls had done so well from – a zesty, scrappy group in which everyone stands out as an individual (stereotype or not) – proved very tough to sustain. The Spice Girls seem like an obvious starting point for 21st century pop, but look closer and there's not much like them since: plenty of personalities, but rarely made to spark off one another in a group.
They were never the future: instead, Mark S had it right when he pointed in a comment to England's pop tradition of chaotic but inspired amateurism, the country's most reliable music export from the Beatles onwards. Groups of kids fitting stuff together by magpie instinct, blagging their way to fame together and then exploding (the Beatles) or imploding (the Spice Girls) or just becoming a bit duller (Duran and others). What, the Spice Girls asked and answered, would a girl version of those great British pop tales – the manias, the revolts, the MTV invasions – look like?
"Goodbye" itself is the Spice Girls in their ballad mode – it is Christmas, after all – and unlike most Spice ballads it aims to be something grand and monolithic: an upturned box of tinselly strings all over the track, and a stately descending chorus. But there's more to it: a tenderness in the verses, and the track's best idea, that urgent backing vocal counterpoint ("I know you're gone you said you're gone but I can still feel you here") which sells me on the feeling the song might have some need to communicate, some last thing to get across before the curtain falls.
And it does – "you got to keep it strong before the pain turns into fear" is one last bit of good, earnest Spice advice for girls handling a knockback. Beyond that, the spectre of the fifth Spice overwhelms the song's emotional impact, and though she's hardly missed as a vocalist her lack is still felt. Some of the lyrics ("I never thought you'd go your own sweet way") feel borderline passive-aggressive, though you can certainly hear Geri singing – or writing – a line as awful as "look for the rainbow in every star".
It's a clue to why the Spice-model wasn't more widely taken up: the whole was always the exact sum of the parts – lose any of them and you lose too much. And in the end, we're left with Mel C, the vocal engine of the group, ad-libbing her way defiantly to the finish – "I will be with you every day" – as the others take their turns to sing and slip out the door. They just about make their disappearance matter, but for all its pomp, "Goodbye" is a subdued farewell for the true last gang in town.
6
Comments
Add your comment
Top of page