24
Jun 14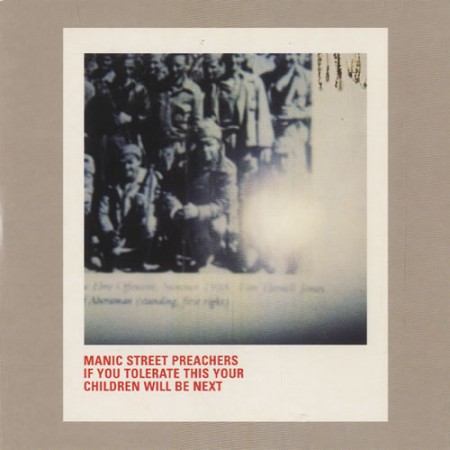 "You can interpret the lyrics," huffed a Nazi goon caught nicking this song for the BNP's website, "any way you want." The specific double meaning of "if I can shoot rabbits, then I can shoot fascists" eludes me, but it's true enough that the Manic Street Preachers' lyricists had a taste for the oblique. Simple polemic was rarely their style: on their early records they favoured harsh, dense word-blocks, crushed by the transition to song into something barely singable, their uneasy imagery delivered by James Dean Bradfield as a compressed bark. But for all their rough treatment, the words mattered – for The Holy Bible the band took out double-page ads printing the record's scorched, self-lacerating lyrics in full. They made records About Things, things number ones only occasionally break bread with: self-harm, depression, the decline of class consciousness. And here, apparently, the Spanish Civil War.
But one of those things is not like the others. Why on earth make, in 1998, a record about the Spanish Civil War? Old battles had never been the Manics' territory: they preferred live issues, current problems of culture and psychology. A song praising the Republicans in the Spanish conflict is not addressing a live issue: and, to be honest, there weren't a lot of obvious 1998 analogies you could make for it. "If You Tolerate This Your Children Will Be Next" is a magnificent title, but tolerate what? What line were the band drawing? Was it all a better-read version of Father Ted's omniprotest: Down With This Sort Of Thing?
So I'd like to suggest that something more is going on here, but before digging into what, it's worth asking how we got to this in the first place. "If You Tolerate This" is a fanbase record, as surely as anything by Boyzone is. The Manics had been the most startling beneficiaries of the post-Oasis interest in British bands, hitting form and accessibility at just the right time for big, gestural rock to succeed. And to be horribly cynical about it, the tragedy of Richey Edwards established their bona fides as a serious band at the same time as his absence meant they could stumble into the mainstream without lyrics like "He's a boy / You want a girl so cut off his cock" chewing up their column inches. "A Design For Life" was a remarkable single, a band pushed by guilt and circumstance into speaking plainly, seizing their platform and using it. They released it as a group with sympathy and a small, utterly devoted audience: they left it a band with a huge, solid fanbase.
It made "If You Tolerate This…" – first single off the follow-up album – into a big moment, the kind of release other singles shuffle out the way of. But as is often the case, the fanbase flexed its muscles a record too late. "If You Tolerate This…" has none of the painful confidence of "A Design For Life". It opens brilliantly – cold, Radiohead-style bursts of treated guitar, pulsing out and back like the respiration of some great, dying machine. But once it gets going and the strings and solos kick off, it's the band settling into the cement shoes of lugubrious arena rock – footwear they found all too comfortable.
So while it's lovely to see them at Number One, what's initially disappointing is that for the first time in their career, it didn't feel like the group were over-reaching themselves. That had been a large part of their appeal. The earliest Manics made much of a love for Public Enemy and Guns'n'Roses, but the process they applied to those influences was pure indie pop: make a Quixotic attempt to match your idols with a tenth of their budget and technique, and trust that something inspiring comes out of it. They stood in relation to glam metal as Orange Juice stood to Chic and disco – a doomed, glorious tilt at a form that might end up wonderful in a different way.
Everything Must Go took the same trick and used it for stadium rock – gambling, successfully, that rough-hewn attempts at anthemic rock and thoughtful, sorrowful lyrics would rub well together. But it meant that when "If You Tolerate This…" came out, the surprise had become expectation. The band, inevitably, chortled about "subverting the mainstream". But the idea of the Manic Street Preachers having a hit with a single about the Spanish Civil War felt right: was, instead, instantly comfortable and appealing enough by itself that the weary reality of it could be shrugged off.
What redeems the record – lets it wring dignity from tedium – is that this gap between reputation and reality is exactly what the song is wrestling with. The crucial moment in "If You Tolerate This…" is the breakdown before the final chorus – "And on the street tonight an old man prays / With newspaper cuttings of his glory days". It's picking up on the "monuments put from pen to paper" part earlier – the way remembrance of heroism, even well-meant remembrance, turns into romance and abandons the messy subjectivity of the lives in question. And even as it acknowledges this, the song has been playing around in that romance – the title slogan, the rabbits quote, the totems of a long-gone, righteous struggle.
It's easy to see why this might resonate with the Manic Street Preachers. They had become a group defined by a gap: a vanished friend who was turning into stories and slogans himself. In a season of youth in the charts, "If You Tolerate This Your Children Will Be Next" was less a subversive gesture, more a memento mori from a band that had finally found their place and were settling into a dependable success. Listen to Bradfield's despairing, exhausted "aaaand" as he slides into the chorus – "If you tolerate this then your children will be next" is a warning, but not an avoidable one. History itself – the process of sorting and discarding, of turning fighters into forgotten men while their words survive – is the "this" that cannot be tolerated. But always is.
7
Comments
«
1
2
3
4
All
«
1
2
3
4
All
Add your comment
Top of page