21
Apr 14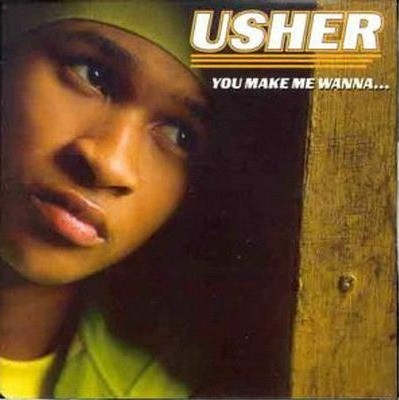 Another piece of the present slots into place: if you leave out charity records, this is the first artist we've met to also have a Number One in the 2010s. Usher fits a model for pop stardom we'll see more frequently as we get closer to now: a teenage prodigy with material good enough to stay the distance. He's also – again, typically for his generation of stars – a highly adaptable performer. Every now and then he'll put out something really startling, like 2012's "Climax", but it seems to me that more often an Usher record is smoothly and confidently on-trend.
But what's on-trend in R&B can be dramatic in a context like the UK charts, which hasn't tracked black American music that closely during the Britpop years. The pared-down musical frame of "You Make Me Wanna…" – pensive flickers of harp over a darting, unsettled beat – comes as a cooling, welcome reminder that maximalism and lushness have their limits.
Like a lot of the best modern R&B, "You Make Me Wanna…" is psychological drama: a chorus that zeroes in on a particular situation, then verses that expand and explain it. Every nervy, spartan component of the song is angled towards exploring Usher's state of mind, the love triangle he's found himself in. So you get a vocal structure where the chorus – is played as a perpetual mutter below the song, thoughts looping and trailing as this kid tries to decide what to do: "think about a ring you know the things that come along with you make me you make me". Meanwhile the verses fill in the backstory – the friend he's fallen for actually introduced him to his girl – and the middle-eight has him jump into his choice (or does he? After a few moments of ad-libbed climax, the mutter starts right up again).
It's a claustrophobic record, with production a little too spare to sustain itself, particularly on the fade. But it's also a reminder of what R&B brought to soul music, as the cheater's dilemma is one of the great recurring soul topics – it lets a singer really cut loose on guilt and shame. Usher is either too green or too smooth to do that effectively, but the chorus of "You Make Me Wanna…" shifts the emotional emphasis from the singing to its nervous rhythm as Usher rides the beat. It captures the nagging, obsessive repetition of thought in a tough situation in a way more gutbusting styles couldn't, giving "You Make Me Wanna…" a different kind of immediacy.
6
Comments
Add your comment
Top of page