30
Apr 14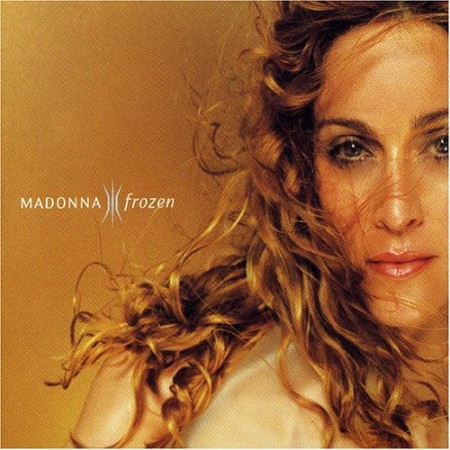 Madonna's first seven Number Ones spanned five years – a major run in itself. Then there's an eight-year break, and then her final six – which begin with "Frozen" – take a full decade. This second sustained period of success – taking an arc of gentle decline and bending it back to her liking and her terms – is astonishing. How did she do it?
Madonna's years away from number one were hardly an exile – her experiments, her shifts in technique and priorities happened in public with a string of Top 10 singles. Ray Of Light seemed like a comeback because it felt so focused and complete, not because she'd been away.
But for these purposes, she has. And there are three main differences between the 1990 Madonna and the 1998 one. They're not all completely positive, but they're sustainable – they set her up for that long career still to come. "Frozen" is a showcase for all three of them – a perfect return, if not a perfect single.
The first shift is in the singing. Around the time of her starring role in Evita, the last bits of New York scrappiness dropped out of Madonna's voice. "Frozen" gives us a restrained, trained singer – releasing a huge, slow ballad as the first single from a new album is designed to emphasise that. Madonna sings "Frozen" with conscious delicacy, gently and sadly holding back – even on the chorus – as if her lover's heart really is a brittle, fragile ice sculpture, something that pressure or anger might shatter. This more kindly Madonna rarely creates the urgency, the stakes, the sense that the moment of the song matters desperately to her (and you) that her 80s singles did. But those instances come hard in anyone's thirties, and on "Frozen" the tender approach works.
The second shift, which parallels the first, is in her language. Ray Of Light dates from Madonna's most spiritual phase – her fascination with Kabbalah in particular. And as her interest in Jewish and Eastern mysticism grows, her lyrics take on a less situational, more universal cast. The scenario in Frozen is simple, and expressed in the widest possible terms, lines like "let all the hurt inside of you die" delivered more like a guru than an ex. Madonna lyrics from this point are often very broad – aphoristic, even. Again, this isn't always to the good. "If I could melt your heart / We'd never be apart" is not the most striking chorus, however grand its setting.
But its setting is very grand, and this is the third shift – a change in how Madonna works with her collaborators. Songwriting and production partners were always very important in her work, but they were generally long-term artistic relationships – Patrick Leonard, her co-writer here, dates back to the 80s records, but this is his last album with Madonna. Jellybean Benitez, who helped her sculpt her early sound, has long gone. Instead – starting with Nellee Hooper and Bjork on the Bedtime Stories album – Madonna now begins to work with musicians and producers with a very specific sound, changing personnel each record.
The unfortunate result of this, critically, is that while the producers she works with – William Orbit, in this case – get a deserved portion of credit for each record, Madonna's own contribution is occasionally downplayed. But this is the way of working of a woman who is clearly in absolute control of what she produces and how it sounds – it's much better to think of her from the mid-90s on as a James Brown style bandleader, sustaining her career by cherry-picking young musicians to work with and ensuring she gets exactly what she wants out of them.
In this case, what makes "Frozen" such a good record isn't picking William Orbit to produce it or Craig Armstrong to do the string arrangements, it's realising how magnificent those elements might sound together. Orbit's drum and electronic programming on "Frozen" is extraordinarily abstract for a global smash – a kind of cold, bassless dub approach, where the gaps, echoes and drop-outs matter as much as the beats, which spread sharply, like sudden cracks on a frozen surface. They need Armstrong's strings to hold the song together. And those strings in turn – a dark, Arctic sea of swells and crests – need the beats to sound more perilous than comforting.
The overall effect is stunning, especially when all three parts – the drums, the strings, Madonna's imploring voice – peak together for the chorus. The sea beats against walls of ice, the song rises to its full, imperious force, and you feel it must be working – the lover must be hearing. But each time it dies away, and by the end of the song she gives the fight up. Some people refuse to change. But Madonna is not among them.
8
Comments
«
1
2
All
«
1
2
All
Add your comment
Top of page