28
Apr 14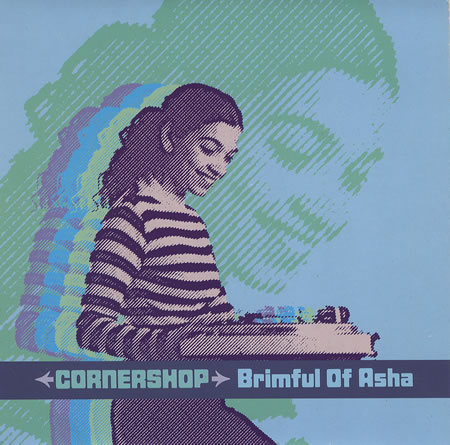 In the mid 90s, if you were looking for alternatives to Britpop's domination of the media you'd find fertile pickings – so fertile, in fact, that it turned into a whole line of attack. Take Britpop's nostalgic, ironised relationship with the country's pop past, and contrast it with trip-hop, or drum'n'bass, and their rapid innovation and pace of change. To make the argument even more enticing, Britpop stars were mostly white, while black and Asian British musicians played huge roles in the scenes held up against them. Nostalgic white past versus thrilling multi-cultural futurism: it was an almost irresistible frame.
But it was also too simplistic. One of the things the analysis left out – because Britpop left it out – was the heritage of immigrant communities within Britain – which ran back well beyond the cultural memory of Swinging London. Nostalgia could be a poison, but it could also lead to splendid, resonant music, so why impose conceptual limits on who gets to make that music? Black and Asian Britons had a 60s and a 70s here too. Fight the past with the future, by all means, but other pasts, and other nostalgias, were available, and could be just as vital. "Brimful Of Asha" proved it.
Cornershop came out of an angry, forgotten moment just before Britpop hit. They were Riot Grrrl fellow travellers with a taste for barbed theatre about 'Britishness' and the perceptions of where Asians fitted – the name, the "curry-coloured" vinyl, the righteous incineration of Morrissey photos. "Get on the streets and fight! The powers that be" shouted their clattery debut "England's Dreaming", whose video showed plenty of Union Jacks – and their scummier wavers.
But the music didn't catch up to the rhetoric, and I doubt I gave them much of a chance, at least compared to thrilling Wiija labelmates Huggy Bear or the catchier political pop of Chumbawamba. And – as if it needs saying – they seemed as likely to get to Number One as any band in the habit of releasing split singles with Blood Sausage would be. Even less likely, you would say, than a Housemartins bassist becoming the hottest ticket in British dance music.
Some might argue – especially as Norman Cook himself has jokingly conceded it – that Fatboy Slim ruined "Brimful Of Asha". It's certainly true that the bits he slices out are some of the song's most beautiful and important. Gone is the recital of Indian and other touchstones – "Solid State Radio – 45!" and all that – which adds so much texture and emotional weight to "Brimful". It's one of the great pop lists, like Kevin Rowland's furious count-off of Irish writers in "Dance Stance", or Daft Punk's tribute to house pioneers on "Teachers", a personal testament to how culture builds you. Gone also are the gorgeous bloom of strings that ends the song so perfectly.
These are harsh losses, particularly as it's so easy to imagine Cook fitting them into the single mix – he'd only have to ditch a half dozen "bosoms". But he keeps a lot of the parts of "Brimful" that matter, and his central idea – speeding it up – is a brilliant one. Cornershop are often a leisurely band – Tjinder Singh is particularly good at setting up friendly, fuzzy, loping grooves to build his ideas around – but sped up, the riff of "Brimful Of Asha" reveals itself as one of the era's sharpest, a piece of propulsive mod swagger. It's half-pilfered off "Sweet Jane", but that had always been part of the point – rock belongs to Cornershop just like any other music they use.
But while it's mostly a Cornershop record, "Brimful Of Asha" is recognisably a Fatboy Slim track too. Cook had a wonderful streak of remixes and original tracks around this time – this, "The Rockefeller Skank", "Michael Jackson", his mix of Wildchild's "Renegade Master" – almost all of which used the same trick. They're fast, goofily repetitive, breakbeat-driven dance records, then instead of dropping the beat out for the breakdown, they start cutting it up faster and faster, bringing the track to a delirious head so the drop back into the chorus is a different kind of release. It's magnificently crass and it works almost every time. On "Brimful" he uses the "bosom for a pillow" line as the repeating core, then works the cut-up trick on "and dancing – and dancing – and dancing" – and it's a wonderful, surging moment. With that and the amped-up riff, Cook gives back as much as he takes away: this and the original are two brilliant singles, not one spoiled.
What's more, they're two brilliant singles with the same emotional centre. "Brimful Of Asha" is one of those occasional number ones about how glorious and liberating music is. "Dancing Queen" is another, so is "Come On Eileen" Unlike those records, "Brimful" was not originally about dancing – it was about music and film not just as communal escape but communal resistance. An unbreakable thread linked the band of 1997 to the band of 1993. "We don't care about no government warnings, about the promotion of the simple life or the dams they are building", to quote the record's most resonant, compact line, one the remix shrewdly keeps. But any song about that can be very easily diverted to dancing, which has a long, intimate relationship with community and resistance.
In either of its versions, "Brimful Of Asha" is wise, exciting pop: in one version slightly more wise, in the other slightly more exciting. It remains an inspiration. I'm writing this in April 2014: two months into what I grimly suspect might be years of Britpop retrospection. England, once again, is looking backwards. But just as then, that's too simple a diagnosis. There's no shame in looking backwards, the past is full of treasure – the key is not to hoard it but to use it, to come back out of the past and share what you find. That's what Cornershop did, building a fragment of their heritage into a part of everyone's – stepping forward at the dying days of Britpop to show what nostalgia was good for.
9
Comments
«
1
2
3
All
«
1
2
3
All
Add your comment
Top of page