23
Mar 14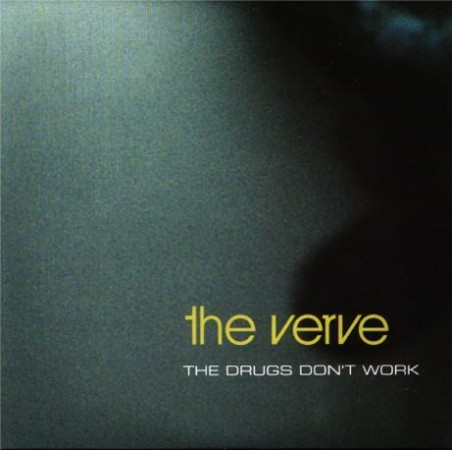 "Whenever we played that live there would be rows of grown men crying. It was almost like these guys couldn't cry when they needed to cry, but that song operated like a pressure valve for them and it was okay for them to cry at a big rock concert." – Richard Ashcroft on "The Drugs Don't Work"
The list of number ones is not a complete history of anything except itself: it's an iceberg party, a throng of bobbing and jostling tips – rock, hip-hop, reggae, indie, cinema, politics, comedy, charity, marketing and more, each one an incomplete and distorted story. But sometimes – when a berg seems over-familiar – the tiny and partial story told by the tip can put a new spin on it.
So the rock and indie number ones of 1996-1997 have seemed to me to tell a story about anxiety, a crisis of legitimacy for rock music. "Setting Sun" brutally demonstrated that it was impossible simply to pick up where the 60s innovations had left off. "Discotheque" suggested that other musics could no longer be easily absorbed into the working practises of a rock band. And Oasis were a walking declaration that a traditional band line-up should be the centre of pop, simply by right and by confidence – and it had worked, until Be Here Now showed the limits of this fiat rock.
But there are other things rock can do beyond innovation and simple hugeness. "The Drugs Don't Work" leads us to one of them: rock could get emotional. Specifically, rock could thrive as a venue for great big male emotions, a conduit by which confused 21st century guy feels could be expressed and released at stadium scale and numbing pace. Creation's Alan McGee, a partisan of more swaggering styles, coined an ugly, dismissive term for it: 'bedwetter music'. He was talking about Coldplay, but he could have been talking about Keane, Athlete, Snow Patrol – bands who, like them or not, were Britain's main solution to the "what is rock for?" riddle.
Tying this to The Verve might seem wrong. The Verve were part of Oasis' moment, not Coldplay's – their previous album, A Northern Soul, used Oasis' producer Owen Morris, and as Matt DC pointed out to me, the reason Urban Hymns ended up outselling Be Here Now was because it offered a similarly mammoth, but apparently more consistent and thoughtful, alternative for disappointed buyers.
That side of the band always fought against a still earlier incarnation. At the heart of the group was an instinct to meander. Early singles – like 1992's "Gravity Grave" – cast Richard Ashcroft as a psychedelic pilgrim, cloudwalking wide-eyed through his band's blown-out songs. It was an outrageously corny take on psychedelia, all the more so for its fixed-stare sincerity. At the time I thought myself far too hip for it, but secretly enjoyed it anyway.
But once they started writing more structured songs, their best tracks were usually the ones where Ashcroft tapped into this questing side. "History" wraps itself up in William Blake references and comes on like a Northern Jim Morrison, and again uses aggressive sincerity as a get-out-of-jail card to cover the track's wayward structure: when you mean it this much, who cares that the song just fizzles at the end? "Bitter Sweet Symphony" – the breakthrough – does the same thing with a fantastic stolen hook, and a groove and theme which means the endless voyaging and the lack of resolution become the point rather than something Ashcroft is trying to front his way through. But the famous video sums up the underlying game very well – Ashcroft crashing into passers-by who get in the way of his vision quest. It's the Gallagher attitude applied to philosophy: weaponised introspection.
That's the link between The Verve and the Coldplay era – that sense that the singer's giant sensitive feelings are the most important thing in the world, and that as such they deserve only the broadest, slowest, most self-serious music as accompaniment. As you've probably realised, I don't like this music very much – not that this makes me a critical maverick – and "The Drugs Don't Work" both succeeds and fails by pointing towards this glum, widescreen version of rock.
"The Drugs Don't Work" is a small, bleak song nestled inside a larger, lazier one, and the small song takes The Verve out of their psychedelic comfort zone and back down to grey, inescapable, Earth: it's Richard Ashcroft writing about his dying Dad. Of course, the song works if it's just about comedowns, or a chemically-defined relationship, but this is one time when learning the song's authorised subject improves it. It's already got the cat in the bag metaphor – an ear-seizing image, one of the year's most arresting lyrics – but "If you want a show / Just let me know / And I'll sing in your ear again" becomes a devastating line when you set it in the hopeless quiet of a hospital ward. Ashcroft tones down his rock prophet style to sound confused and exhausted, and Nick McCabe drops in the occasional lonesome whale cry.
It's sombre, effective, it's what (I guess) the record is best remembered for, and it's only about half the song. All the "ooo sha la la" parts, all the "whoa Lords", and especially Ashcroft's vamping at the end are big rock boilerplate, and for me they blow the effect. A song which works because it's grounded in a relatable experience turns into another trot through the rock frontman playbook. The 'Mad Richard' urban shaman shows up again at the most inappropriate time.
The most obvious effect was just to make "The Drugs Don't Work" longer. We are in an era of Number One bloat, where bolting on an extra minute comes as standard, and I think it particularly hurts this record. Perhaps I'd feel different front-and-centre at a Verve gig, but for me that whole string-driven coda doesn't feel redemptive or healing, it's just a reminder that – as with "History" – Ashcroft is awful at sticking the landings of songs and prefers to bluff his way out of them. The bluff plainly worked, but the ideas and the emotional weight of "The Drugs Don't Work" ease up well before halfway. In the wider story of British rock, it's a transitional Number One, a song whose hurt and confusion are sabotaged by its worn-out nods to rock enormity. The next generation of massive UK bands would smooth out these conflicting impulses, and find ways of doing emotion at arena scale. Most of their hits are as dreary and draining as "The Drugs Don't Work" winds up being, but few are as frustrating as this song, because few of them have its kernel of quality in the first place.
4
Comments
«
1
…
6
7
8
All
«
1
…
6
7
8
All
Add your comment
Top of page