14
Mar 14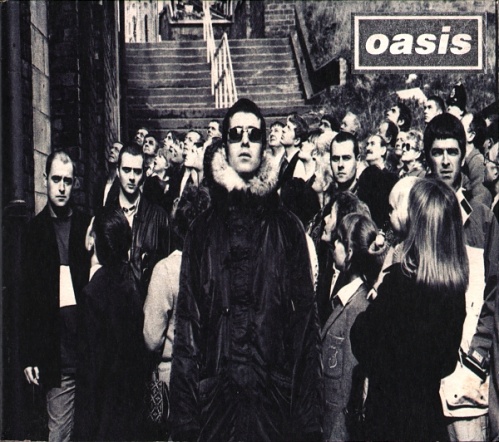 "Call me naive but I felt something – I'm not quite sure what it was, but I felt it all the same." – Noel Gallagher on New Labour.
When Tony Blair and Noel Gallagher shook hands in Downing Street that Autumn, they were men facing similar problems: what do you do after you've won? Accounts of the first Blair term stress that New Labour never realised, deep down, they were as powerful as they were – Blair stuck to plans which assumed his party would be working with only a modest majority.
Gallagher, on the other hand, believed absolutely that Oasis would be the biggest band in the country. He'd said it would happen by right, and it had. But that didn't make him any more prepared. If Blair didn't believe he could tear up his plan, Noel hadn't seen much need to make one. What do you do after Morning Glory? You do it again – bigger, better, louder, longer, even if the band hate each other and the songs aren't there. Be Here Now is known as a cocaine album, but just as pertinently it's a success album. It's an avalanche of half-worked, muddy, adequate ideas that exist because nobody said they couldn't and momentum said they had to. Landslide indie: as 1997 as it gets.
The question is whether "D'You Know What I Mean?" is the victory, the hangover, or both at once. As a comeback single, it's doing two things – reintroducing Oasis' attitude, lensed as ever through Liam's vocals, and trying to haul in that massive, nation-spanning Knebworth audience with a big-tent chorus. "All my people, right here right now, d'you know what I mean?" translates simply as "Vote Oasis". They're pitching for re-election as the People's Band.
The Morning Glory follow-up was always going to be a news event, and "D'You Know What I Mean" leans right into that: it's nothing but event, and away from its context it feels bloated and beached. It's the 1990s equivalent of Duran Duran's "The Reflex" – a guaranteed, massive, empty smash built out of a band doing everything they did before but louder and stupider. Oasis (unhappily for them) do not have Nile Rodgers on hand to pull things into glossy shape. But they have the same total, barefaced confidence – tell them it's nonsense, and aren't you the idiot for caring? This is an alpha record, built to emasculate criticism – with this big a dick, the Emperor hardly needs clothes.
And critics, notoriously, fell into line. Q's 5-star review of Be Here Now has been scrubbed from the Internet, but Select's effort did the rounds a few months ago. "All of rock history has been leading up to this point", it proclaimed, in one of several moments where ignoring the mark (also five starts) makes the praise slightly less straightforward. Even so, this sort of review has gone down in critical history as a hideous misstep – as fans and even the band backed off from Be Here Now, the adulation tanked reviewers' credibility. This may be what artist Jeremy Deller meant in his savage summary of Oasis: "they ruined British music, and they ruined British music journalism".
(Is that fair? Paul Gorman's In Their Own Write, an oral history of the music press, is silent on the Be Here Now incident, which is odd because it gives a detailed account of its prelude, the set of mostly average write-ups for (What's The Story) Morning Glory. The press' change of mind wasn't just a result of nervous triangulation to placate readers, it was partly down to strongarm tactics from Oasis' marketing team, backed by the band themselves, who suggested they might refuse access on the basis of the Morning Glory pans. Oasis' presence meant tens of thousands in sales: the threat worked.)
So had all of rock history been leading here? Not history, maybe, but "D'You Know What I Mean?" is at least a prowl through rock's wax museum. It subs out meaning for rapid cuts through a haul of reference points – "Blood on the tracks and they must be mine / Fool on the Hill and I Feel Fine" and plenty more. The record benefits enormously from having an engaged-sounding Liam – which means a Liam radiating contempt for his brother's idolatory: all those old fragments of rock are just bits of gum for him to chew and spit out.
If all there was to it was that confidence, its behemoth production, a snarling verse or two, and a couple of rounds of the chorus, "D'You Know What I Mean" would do its comeback job. It swaps their energy for bludgeoning aggro, and it doesn't have the bite or tenderness or angry hope of better Oasis songs, but it might have reminded you that the band could do those things. Instead, the song makes that point then simply refuses to stop. From one listen to Be Here Now it was obvious that Noel Gallagher had made an album of long songs with no good idea how to make a song long beyond hammering the bits he liked best into inertia. "D'You Know What I Mean" has no reason to get anywhere near seven minutes.
Any coherence this has as a song comes down to two things: Liam's sullen vocal, and the drums, where a slowed-down NWA sample creates a mid-paced stomper of a rhythm, simple and arrogant, and evokes Liam's slouched swagger anyway. Everything else is a confused, colossal swirl – helicopters, morse code, and every guitar effect Noel Gallagher could overdub on. It sounds nothing like The Beatles. It reaches back deeper, not into the collective past, but into Oasis' own background. This is a song where those years Noel spent as an Inspiral Carpets roadie suddenly come into focus, the years when British guitar music was all mess and throb. In the soup between the drums and the singer, there are snatches of noise that call to mind Madchester, shoegaze, grunge, warmed-over punk and psychedelia; each effects-pedal soar or swell is another ghost of early 90s indie, crowded around Oasis' shoulders for their victory lap.
And maybe that's the best way to enjoy this confused, bullying, almost-exciting sprawl – as a party loyalist, someone just happy to see British rock on top of the charts. But Oasis had mined that particular goodwill for a long time, and Knebworth – two and a half million chasing 250,000 tickets – had been the peak of it. Factions as big as theirs take a while to fade away, but the disappointment of Be Here Now was the end of their country-wide enormity. At their meeting, Gallagher and Blair had success in common, but nothing else: the politician was already planning for re-election; the pop star had just blown it.
4
Comments
«
1
2
3
4
5
»
All
«
1
2
3
4
5
»
All
Add your comment
Top of page