27
Mar 14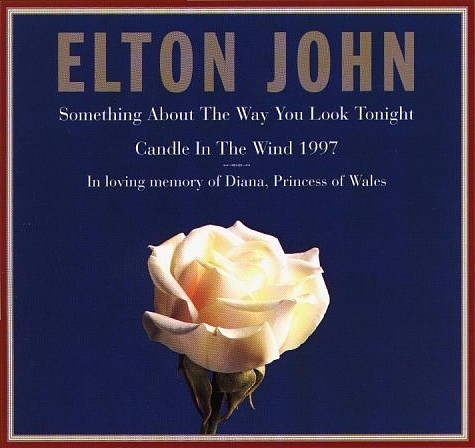 Every Popular entry starts with the same question: why this record? This time it's especially loud. "Candle In The Wind '97" is the highest-selling single of all time in the UK, almost 2 million clear of its nearest competitor. This is as big as pop gets. But "why?" might strike you as a silly question here, because its answer is so obvious: Diana, duh. So reframe it: why Diana?
The death of Princess Diana is recognisably a global news event, in the way we experience them now: the sudden in-rush of information into a new-made vacuum of speculation; the real-time grapple for meaning; and most of all the flood of public sentiment, deforming the story and becoming the story. It was also inescapable in a way nothing in my lifetime had been. But there are elements which feel very distant, and this single is one of them. It pushed the machineries of pop – literal ones, like CD presses and distribution fans, and metaphorical ones, like the charts – to their limits. HMV stores carried signs warning of a limit of 5 copies per person, and still sold out. There were reports of people buying 50 copies – for a shrine, perhaps, or just because CD singles had briefly become, like flowers and bears, part of a currency of devotion.
And still, because Diana so inconveniently died in the small hours of a Sunday, it felt to me like it arrived at No.1 late, a week after the funeral and two after the death. If its copies sold had been evenly distributed it could have managed months at No.1 – instead it racked up 5 weeks, fewer than Puffy. "Candle In The Wind '97" sets itself up to be a tribute that will last, but really it only made sense at the funeral, still in the heat of the story's first phase: part of a fight about what Diana did or meant, and what her legacy might be.
Narratives overlapped, jostled for attention. Everyone had an agenda, everyone claimed her for it. Tony Blair, mesmerised by unifying figures and great causes, saw her as one – the "people's princess". TV news announcers, wrestling the story at its source, spat the word "paparazzi" with sudden, fearful distance. What they dreaded seemed to come true with Earl Spencer's funeral speech, the ancien regime emerging to set the bloodline and duty of old England against its hateful, media-ridden, fallen reality. Murdoch's Sun, meanwhile, had seen its opportunity. It raged at the family Diana had detested, damning their reticence. When others were a step behind, wringing their hands at the media for killing Diana, the Sun brazenly took that outrage and turned it into a lever to crack open the rest of Royal Family. The remainder of the Establishment retreated to their diaries, writing in despair of a Britain drowned in sentiment, left stained and sodden by this freak tide of petals, plushies and tears.
Legacy is part of what "Candle In The Wind" was always about – Bernie Taupin's self-satisfied, sentimental recovery of the real girl beneath a superstar. "Candle In The Wind" is a song that's angry about how men in Hollywood used and reshaped Norma Jean Baker, but then casually asserts the right of other men – Elton and Bernie – to revise the story and define an "authentic" version of the woman. Even the private life of Marilyn becomes a commodity, to be piously invoked by people who never met her. They all sexualised you, Nice Guy Bernie makes Elton simper – of course that's not what I'm doing, way back in the obsessive dark of the cinema. Sometime in her teens, Diana Spencer sold her cassette of Goodbye Yellow Brick Road to her friend and flatmate, for 50 pence. She signed it before she handed it over.
A song about a dead woman whose place in our memory gets fought over by a vast establishment on one hand and people who never met her on the other: Taupin's job here isn't so much to bring the lyrics of "Candle In The Wind" up to date as to urgently make them less pointedly about Diana. The original "Candle" inevitably haunts this one – not just because it's too resonant to be smothered, but because it makes it obvious how rushed, overdone, and fatuous the new version is. Forgivably so, perhaps. Elton didn't know Marilyn but he did know Diana – he might have been at the funeral by right of friendship even if it wasn't a gig. And compared to the knowing, late-night regrets and ruminations of the original, on "Candle In The Wind '97" he sings like he's in a black suit and tie and nervously fingering the collar. (Flip to the 'double A-side' – yeah right – for a useful comparison: that's what a relaxed Elton sounds like). He sings key words – "GROW in our hearts…the GRACE that PLACED yourself…" – with an unctuous precision. Peak smarm is hit on "now you belong to Heaven", where Elton sounds like a Sunday School teacher explaining to a 5-year old where Bunny has gone.
For the biggest televised funeral of all time, though, some hyperbole is expected. Taupin certainly doesn't risk caution – "from a country lost without a soul" sobs the lyric. Behind all this rending of garments, more intriguing touches lurk.
There's the William Blake reference, for instance – "Your footsteps will always fall here, round England's greenest hills", an obvious nod to the verse which has ended up known as "Jerusalem": "And did those feet in ancient time, walk upon England's mountains green?". Blake was referring to the legend that the young Jesus visited Britain, making the reference the closest "Candle In The Wind '97" comes to tying up all its vague messianic imagery into an implication that really would be startling. But there's something more here. "Jerusalem" in its most famous sung arrangement also has currency as an alternative national anthem: it's what England might have if we finally got rid of the Royal Family. Referencing it in a song for a woman who had stepped outside that family is a very interesting choice.
This reading of "Candle In The Wind '97" seems tenuous – but it's backed up by the version of Diana the song chooses to emphasise. What we're hearing about is Saint Diana, Our Lady Of The Landmines – placing herself in the grace where lives were torn apart. This was also the version of herself she most enjoyed. I don't think she was cynical about her good works – while obviously living a life of astonishing privilege, she seems to have been a genuinely kind person, and on the right side of social history on some important issues – but she also knew the extent to which they threatened the monarchy.
One of the ways in which the monarchy managed to survive, retaining its power in an age where things might have gone badly for it, was turning Elizabeth II's personal talent for rapid intimacy into a defining asset. The Queen, like Bill Clinton, has a famously good memory for faces, names, and small personal details – and this is turned by monarchists into an argument in favour of the whole institution. The Royals are valuable because they work so hard, and have such a bond with their subjects.
Since Divine Right won't cut it, and the economic case is too grubby and unglamorous, this feels like the most solid defence of the Royals that monarchists have. But fixing a job description to monarchy is a secret attack on its legitimacy. If the job of monarchy simply amounts to empathising with people and remembering their names, then the monarch should be whoever does that job best. Diana's challenge to the monarchy was that she took its nickname – The Firm – literally. She had been fired by the firm, and like a true entrepreneur she set up her own business as its competitor, disrupting it by doing exactly the same things – touring the world, visiting the poor or sick or industrious – with less protocol and more agility. The ultimate 80s icon was taking 80s politics to its unthinkable conclusion: privatise the monarchy. To do it, she used things the Royal Family could hardly touch – the media; youth; even pop.
This was why Diana's modest assertion to Martin Bashir that perhaps she might be a princess "in people's hearts" was such dynamite. What if, she was sweetly suggesting, simple popularity is a higher legitimacy than custom and tradition? This is a destabilising question. It's the question implied by the NME when it modestly begins, in a paper full of critics, to list the records that sell the most every week. Which brings us back round to the original question: why is this record the biggest-selling single of all time?
Because they're only based on sales, the British charts are a very crude cultural seismograph, able in their barefaced capitalist simplicity to pick up tremors other methods might smooth over. A colossal global news event should always show up on them, even overload them. But the unprecedented scale of this (really bad and hard to listen to) single's success goes beyond that. Diana's entire project – acting as a competitor to the Royal Family based on popularity and affection rather than iron tradition – means that a colossal show of genuine, bottom-up public mourning wasn't just an inevitable reaction from her fans, it was the right one. And even if "Candle In The Wind '97" was a little late by our advanced standards, it was released in time to catch that wave.
Even so there's a bigger question – why did this event manifest so strongly in pop, specifically? What sort of pop figure was Diana? It's tempting and easy to look at her unearthly celebrity and simply pronounce her a pop star, but during her life that wasn't how she figured into pop music. Instead, she was the archetypal fan. Though not for her taste, which was never going to wow critics – there's a case for saying that "Something About The Way You Look Tonight" is the real tribute here, in that a bombastic bit of AOR with vaguely de Burghish themes is What She Would Have Wanted.
Diana's most famous encounters with pop were fannish ones: being thrilled to meet Duran Duran backstage, dancing in front of a Kensington Palace mirror to "Girls On Film". That second one, in particular, is iconic pop behaviour, but not star behaviour. It's one of the classic images of fandom and the fan's self-definition through pop: singing or dancing into the bedroom mirror. Diana's performance of it in a palace calls back the original public idea of her, before the good deeds and the hugs. Diana was a symbol of pop – youth, energy, blah blah – at the heart of the establishment.
By 1997, that Diana was almost redundant. It still seemed like it might be important – and not just a trick of the demographic light – that the President played the sax and the Prime Minister had been some kind of rock band longhair. But the other possibility – that simply liking pop or rock music had no implications whatsoever – looked increasingly likely. A pop fan at the palace – or even thrown out of it – was no longer much of a story.
Dancing-in-the-mirror fandom has never been the only role for young women in mainstream pop, but it's tended to serve as a default. It's a coincidence that Diana dies just as the record industry starts to get its shit together about the Spice Girls and how to sell to their fans, but as we'll see it makes "Candle In The Wind '97" a weirdly cathartic moment. The longer term trends in pop, as we close in on the modern day, are towards more women in the Top 10 and more solo artists, and mainstream pop in the last fifteen years is more defined than it ever was in Diana's lifetime by the stories, presence, creativity and image of individual women.
The world these women are negotiating, resisting or conquering is similar to the one Diana faced. In adapting "Candle In The Wind" at her funeral, Elton John gave an account of Diana that stressed her enormous popularity and linked it with apparent sainthood. It was not the only version available – the intimate portrait by her brother, Earl Spencer, made the headlines by excoriating the press for hounding his sister. "Candle In The Wind '97" sounds awkward and overstated now, to say the least – Diana's "legend" may not burn out any time soon, but it's settled into a dull, emberish glow. But Spencer's speech has fared worse: the era of the paparazzi, of the press hunting and being used by the famous, manifestly did not end.
Instead of the world rejecting the paparazzi, it caught up to them. Diana was, through circumstance, a post-privacy pioneer. The conditions of her adult life – forever observed, forever performing, always improvising to use that to her advantage – are replicated today not just for the stars who have to master those skills, but for all the billions living part of their life in public, . Her question, the pop question – who is popular, and what does that mean? – is the architecture of the social media world, its algorithmic cement. The iconography of Lady Di is frozen in the 1980s – scrape it away and you find an uncomfortably modern, uncomfortably pop figure.
2
Comments
«
1
…
3
4
5
All
«
1
…
3
4
5
All
Add your comment
Top of page