11
Feb 14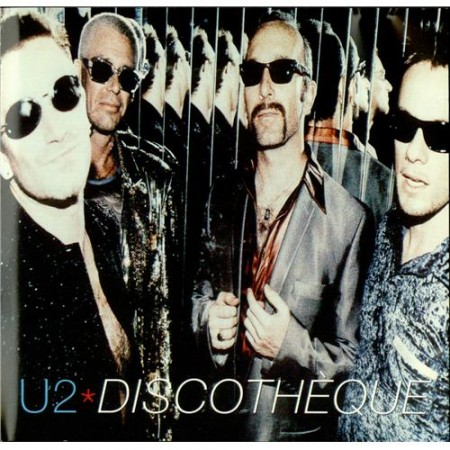 A year before this, U2 just missed the top with one of their best singles: "Hold Me, Thrill Me, Kiss Me, Kill Me", a glam tidbit recorded for a Batman soundtrack that revels in its nocturnal, glitzy movie-theme moves. It might have sounded throwaway but it also sounded like a slinky, knowing good time – proof, you might have thought, that the reinvented New U2 of the 90s had bedded in and were comfortable in their shiny skins. They were working on a new LP. It was to be called Pop. Perhaps the best from them was yet to come?
In the light of this, you might charitably call "Discotheque" 'unexpected'. You might also call it a confused, lumbering wreck of a track that burrows and bellows in search of a hook beyond its one shabby riff. It's one of the poorest excuses for a major release we'll encounter, the moment at which not only the great U2 experiment in post-modern popmaking, but an entire school of thought about rock comes off the rails.
"Discotheque" sounds half-finished because it was half-finished. The whole Pop album was scuppered because, having already spent forever working on scraps for it, the band went ahead and let management book a world tour, to kick off in Spring 1997. Just as the implacable timetables of mobilisation made the First World War inevitable, so too did the logistics of giant mirrorballs and colossal cocktail sticks doom U2's comeback. The group were still fucking around in the studio, sampling other people, sampling themselves, experimenting with 'loops' – they ended up rushing songs to completion just to get a record out.
It was no way for the Biggest Band in the World to operate, but that was part of the problem. Behind its rejection of revivalism, Achtung Baby had hidden a deeper revival, a return to the old Beatles dream – the promise that the "biggest" band in the world could also be at the leading edge of pop culture. Even as someone with no time for U2, I had to admit that the pop-political theatre of ZooTV had come enticingly close to doing that – no wonder the U2 of 1996 bet foolishly big on the PopMart Tour.
This time it wasn't going to happen, on tour or on record. You can pin the crash on the lack of Eno, perhaps – instead Howie B was brought in as a resident DJ – but Eno had helped cause the crisis in the first place. Eno's famous methods – Oblique Strategies and so forth – are tools for focusing, which means they're also an acknowledgement that a loss of focus is likely in the first place. Crucially, Eno honed his methods working with rock bands and artists who were deliberately trying to work with new genres and styles and bring them into their music. This was a main source of progress in the post-punk world – a potted definition of what being innovative meant in rock. It wasn't so much an 'imperial phase' as a imperialist one – reaching out across musics and countries to find new things to incorporate into the body of rock. Dub, reggae, African music, minimalism, disco, rap, noise, techno….
As Eno realised, and U2 discovered, doing this came with a price – a loss of purpose, as musicians more at home with tinkering and learning-by-doing than grand theory wandered in playgrounds of experiment, paralysed by options. The Pop sessions involved endless, fruitless, sampling, for instance, and vast numbers of hired hands brought in to jam and lend ideas. The Eno method, as is clear in its absence, wasn't meant to spark creativity so much as forcibly limit it just to get stuff done.
Meanwhile, the imperialist idea of rock as a force that can absorb all other musics created some great records, but it rested on a huge inefficiency. At its core there tended to be a band, who not only had to force all these ideas into shapes they might play live, but who also had to find a creative consensus on what was worth doing, and demonstrate the ability to do useful things with all these ideas. Most of which U2 seemed to flunk. "Discotheque" essentially sounds like a jam, and an unpromising one at that. The single it feels most like to me – also breathlessly awaited, also disastrous – is The Stone Roses' meandering comeback "One Love", but U2 don't even have the cock-eyed optimism of 1990 to lean on.
Instead they go for cynicism. For all the haplessness of "Discotheque"'s creation, Bono is a pro, and knows how to talk up – and dress up – a dodgy record. "Discotheque" sounds like feeling sick at 2AM outside a nightclub, hearing the beat's muffled thump through the wall, and that's one way of piecing together its scrappy lyrics and excusing its miserable churn. "You know you're chewing bubblegum… You just can't get enough / Of that lovey-dovey stuff" sneers whoever Bono's playing this time: if it's taking a shot at cheap pop entertainment, the blow fails to land, because this alternative is so obviously a shitty time, neither inspiring or provoking.
U2's working practise seemed to be to ride an approach till it flamed out. Just as Rattle And Hum had bounced U2 into backing down on pure revivalism, so Pop was cause for a second rethink. There's a particular kind of 90s rock practise which gets mortally wounded on "Discotheque" – the big budget, everything-fusion album packed with superproducers and hangers-on. Taxi for Howie B, in other words. But while bands will still adopt and adapt to other music – and sometimes, like Radiohead, be loved for it – "Discotheque" also threatens to hold up as threadbare the entire vision of rock as the natural base of musical progress. If "rockism" has ever meant anything, it means what happened on this record – an assumption that other musics exist to provide new directions and stealable ideas to four rock guys in a guitar/bass/vox/drums lineup.
It's telling that the breakdown of the New U2 happens on the album where they decided to really embrace sampling. Hip-hop not only proved very difficult for rock to assimilate, it was far better at realising rock's syncretic pretensions – of being a core of popular music which could absorb and adapt to anything else. In fact, it did this quite casually, and more efficiently than the rock band model had since the late 60s. The telescoping of 'band' into a single beatmaker let borrowings happen more quickly and with less compromise, and the competition between producers to supply beats to popular or rising-star acts meant the turnover of ideas was fierce. This may not seem relevant to U2, though let me cruelly point out that during the multi-producer elephant gestation of Pop, the RZA had managed to produce the entirety of 4 well-beloved LPs and most of Wu-Tang Forever. But Pop wasn't some legendary over-budget folly of a record, it was an album planned, produced and marketed to a more-or-less standard corporate rock timetable. The bigger the band, the longer the album/tour cycle lasted – but that cycle was creatively ruinous. It was both a mortally inefficient way to handle a genuine artistic hot streak, and fearsomely effective at exposing the lack of one.
Post-mortems of 1997 in rock provided a neat moral lesson – a contrast between Oasis, doubling down on tradition and overreaching themselves, and Radiohead, looking outwards and forwards in critical triumph. We'll get a chance to reassess Oasis in a few weeks, but even before then the draggy, floundering "Discotheque" provides some useful complication. Bands could be gigantic, ambitious, entirely convinced of the virtue of progression – and end up making terrible records anyhow. The apparent choice between moving forward and looking back covered up deeper problemns. In the callous language of modern business, rock music was ripe for disruption.
2
Comments
«
1
2
3
4
All
«
1
2
3
4
All
Add your comment
Top of page