16
Feb 14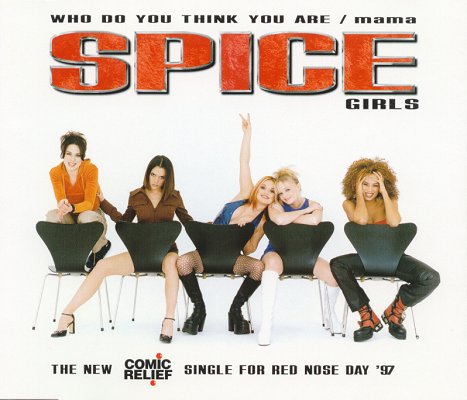 The Spice Girls' determination to get 4 out of 4 singles to Number One – breaking a long-standing record – means this package heaves with reasons to buy. Not just a double A-side, not just a Comic Relief charity record, the single came out the week before Mothering Sunday. It's remarkable nobody had thought of this trick before – or maybe they just didn't have the songs. "Mama" is the first Number One since St.Winifred's School Choir to be designed as a present for an older relation – a chilling precedent, but the Spice Girls sniff out a better angle than just sap, tingeing their sentiment with a regret for past filial beastliness. That – and the pensive flute figure that breaks up the cotton-wool arrangement – make "Mama" waft past in a pleasant haze, not a cloying one.
If our putative Mum flipped her present over, she'd find no less welcoming a track – "Who Do You Think You Are?" picks up the music of her youth and offers a bustling, aerobic take on it. The Spice Girls' first big step into mining pop styles for pastiches, it's an efficient, off-the-shelf version of disco: big on the horns and wah-wah, light on the glamour or romance. Established as the dominant group in British – perhaps even global – pop, and with still no viable domestic rivals, the Girls used pastiche to assert their heritage. Many of the their singles from here on constitute a tour of pop's histories and geographies, with some album tracks – like Spiceworld's big band workout – extending their arc even further.
Since there wasn't a consistent modern Spice sound to delve back from, this shouldn't have mattered: the point of the group was always the group, and the Spice Factor in their singles so far has been a matter of attitude – camaraderie, self-assertion, and good advice. On "Who Do You Think You Are?", the group come together with force and gusto on the chorus, but the verses are the Spice Girls at their most disconnected yet, trading lines and aphorisms as if they're in competition.
(It's also a post-Spectator interview single, and the first verse – "The race is on to get out of the bottom" etc – is the most Thatcher's-children their records ever get. Though it's best not to make too much of that: the second verse is the nemesis to the first's hubris, and besides, when Mel B sings "Giving is good, as long as you're getting", there's a cackle in her voice which suggests she's not talking about the social contract.)
On their first singles, force of will, fizz, and inspired musical choices have deflected any criticism of the somewhat kit-built production. But "Who Do You Think You Are?" is consciously generic disco, which means no inspired or even unusual choices, so the stiffness and cheapness of the sounds have nowhere to hide. It's a single with the dancefloor imperative of disco, but none of its style or cheek. The mix of vocal personalities, and the drive of the chorus, keep things compelling – and the wistful "Mama" is "Who Do You Think You Are"'s perfect foil – but this is as close as they've come to a mis-step.
6
Comments
«
1
2
3
All
«
1
2
3
All
Add your comment
Top of page