15
Jan 14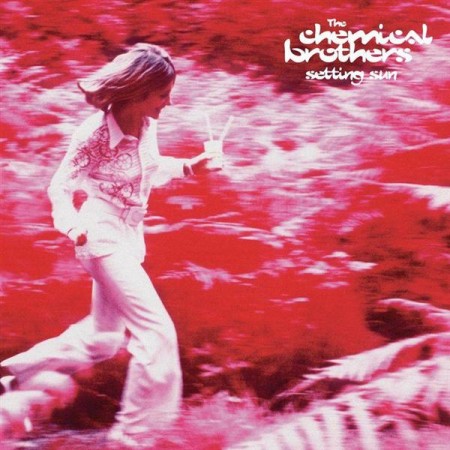 This is a story about the twilight of innovation in British independent music. Oasis in Summer 1996 were impossibly big, big beyond almost all yardsticks of British rock bigness. They had the fanbase and the opportunity to take their audience anywhere the band cared to go – and the motive, too, with critics enthralled by their power but often sniffy about their range. With his hand on the tiller of British rock, with the chance to put anything he wanted at the top of the charts, Gallagher lent his star power to the Chemical Brothers, and made what amounts to a big beat remix of "Tomorrow Never Knows". Stop the clocks, as Oasis later put it.
It's a harsh story, and perhaps it sounds like a reasonable judgement on the existence of "Setting Sun", or the motivation behind it. But a story is all it is. It leaves out how the record actually sounds and feels, and it leaves out the world "Setting Sun" exists in.
"Tomorrow Never Knows" is one of those Beatles tracks that's become a touchstone for inventiveness and originality. Certainly everyone involved with "Setting Sun" revered it. Its invention, though, is there for a purpose. Like a lot of Lennon's later 60s songs, "Tomorrow Never Knows" is a manual for change. Like "Imagine" specifically, it's a series of instructions set to music that brings to life what those instructions promise – zen calm and respite in "Imagine"'s case, ego-death and psychic transformation in "Tomorrow Never Knows". Placed at the end of Revolver, "Tomorrow Never Knows" sounds like a door opening, its phased and looped backing piping the listeners of Britain through into a new world, and not just for pop.
That door, once opened, can't be re-opened – you can't just make something psychedelic and say, this is our "Tomorrow Never Knows". You can match the Beatles' speed but not their acceleration. But I don't think that's what "Setting Sun" is doing. The question the Chemical Brothers are answering here isn't "How do you make "Tomorrow Never Knows" in a world where "Tomorrow Never Knows" already exists?". It's "How do you make "Tomorrow Never Knows" in a world where "Tomorrow Never Knows" worked?"
That's obviously an oversimplification, in that the world Lennon or the Beatles wished for isn't at all the world we got. People didn't become transcendent creatures of total awareness upon hearing Revolver – and I doubt a cantankerous sod like John Lennon would have enjoyed it much if they had. What people did do was start to take drugs in culture-warping quantities. They did this not because of "Tomorrow Never Knows" or any other song – it was the trend the song was surfing, and the Beatles had the talent, imagination and knack for theatre to package it better than almost anybody else. But from the mid-60s onwards, drug-taking became a part of mainstream youth culture, and it's stayed that way ever since.
There's your difference. "Tomorrow Never Knows" is built for a world in which very few young people take drugs. "Setting Sun", its descendent, parallel or perhaps its tulpa, presumes a world in which almost all of them do, with all its unintended consequences.
What makes sense in that world? The Chemical Brothers locate their answer at the moment hedonism shades into chaos. "Setting Sun" might not be the noisiest Number One, but it's one of the most aggressive and turbulent – great chthonic shudders of bass, a drum loop that seems to be trying to punch a hole in the track, snatches of drone on endless spin cycle, the whole song strafed by feedback squeals then swamped in machine-goblin chatter as soon as the singer tries to communicate. Any attempt by the song to be a song is undercut – the breakdown sounds like an equipment failure and reboot, and Gallagher's vocals are treated and flattened into irrelevance. (Apparently he performs "Setting Sun" as an actual song live, which is hard to imagine – the lyrics are flotsam and the track's main weak point is his attempt to corral the noise into a tune.)
We wouldn't be talking about this song without Noel Gallagher, and he adds resonance to its Beatley overtones, but as a track this isn't his show. The Chemical Brothers had just supported Oasis at Knebworth, and like that band they were tied up with Britpop but also not completely of it. They were remixers by appointment to the new pop stars, and their sweat-drenched club residencies provided Britpop's hedonistic soap operatics with an apt backbeat. But by now Britpop is falling apart in a bloody-nosed mess – "Setting Sun" the perfect soundtrack, really – and the Chemical Brothers' main context is coming to the fore: big beat.
The clue to big beat's failings is in the name – when you bring a loop that far forward in the mix and get it to dominate proceedings, it tends to sound static, even leaden, over the course of a whole song. It's just variable enough to not reach hypnotic, just repetitive enough to need a lot of other stuff happening. So a lot of big beat sounded – and was – crunchingly unsubtle next to techno or drum and bass, and far more beery than psychedelic.
"Setting Sun" wanders dangerously close to this trap – and other big beat Number Ones will march gleefully into it – but chaos wins out. The mood of the track is more speedfreak psychosis than a bad trip, but the video makes it clear that something nasty is happening, imagining raving as a kind of demonic possession or manifestation of a second self.
You can see "Setting Sun" as a turning point for its makers, a farewell of sorts. The Chemical Brothers are about to become the kind of dance act that gets five No.1 LPs on the trot – they will rarely sound this unfettered or vicious again. And "Setting Sun" – though Noel Gallagher is the only member involved – is the last we'll see of the early, snarling Oasis. But the record reaches far further back than the early 90s. It's the second No.1 this year to reference 1966 – and where the Lightning Seeds promised it could be like that again, "Setting Sun" shuts that possibility down. To live in the world 1966 made is not to try and get back there: this thrilling cacophony is the sound of a time machine crashing.
9
Comments
«
1
2
3
4
All
«
1
2
3
4
All
Add your comment
Top of page