16
Jan 14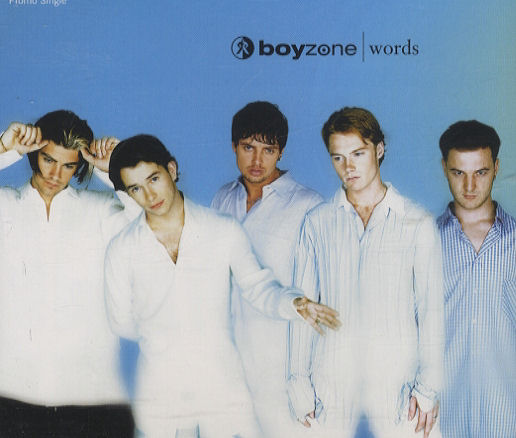 Boyzone began life as an advert for an "Irish Take That", and their first number one is a Bee Gees song, like Take That's last. Those are the facts – but by this point the relationship feels more coincidental than planned. Boyzone are breaking away from the existing boyband model, moving toward something new – something less creative but far more commercially powerful.
Looking at Boyzone, you see the initial conception poking through – five hunks, one or two perhaps a bit grittier, one younger-looking and cheekier, and one a blond who writes the songs (or helps, at any rate). But Take That became more ambitious, varied, and self-serious as they went on. Boyzone got narrower. By "Words", they've been having hits for two years. We're already past their most charming single – a bushy-tailed cover of "Love Me For A Reason" – and we're also past the catastrophically funkless "Coming Home Now", their last attempt to do anything remotely R&B, except in the name of comedy.
Goofy is out, funky is out – where does that leave the lads? They've been developing what you might call the Irish Model of boybands. We have twenty Number Ones to explore the Irish Model (and contrast it with British boybands, who develop rather differently), so I'll eke my thoughts on it out a bit – but by "Words" it's close to fully formed.
There are two main issues with "Words". It's badly over-arranged – not cheap-sounding like the Robson and Jerome tracks, just slathered with gloopy strings and windy flourishes. David Whitfield would have approved. The second complaint – and this is more typical of Irish Model tracks – is that any gap that does remain gets blanketed with harmonies. Some Boyzone tracks are solo spotlights – like Ronan Keating's hammy "Father And Son" turn – but a lot of them take this very direct approach to group singing.
It tends to smooth out any expression or nuance in a lyric, turning it into a comforting whitewash of melody. In the Boyzone version of "Words" every phrase has exactly the same imploring, exhausting weight. It's particularly damaging, since the point of this song is to contrast empty words – "glory… story…." with the pain of disbelief and the disarming sincerity of the singer once he admits that's all they are. Not exactly subtle, and by no means the Bee Gees' finest record, but from them it's at least a performance with a little thought behind it. Boyzone leech the song of character and intelligence, and they're just getting started.
2
Comments
«
1
2
All
«
1
2
All
Add your comment
Top of page