3
Jul 12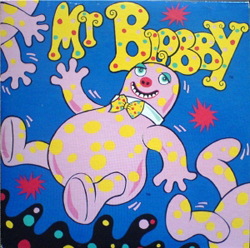 "Mr Blobby" is something of a first. We've met terrible records before – worse than this, in many cases – but their terribleness has been down to incompetence or cynicism (or in Jive Bunny's case both). Blobby is doing something different: his single is best understood an extension of the Blobby M.O., the gag which made him a star on Saturday night TV. Celebrity is given to understand Blobby is a harmless kids' TV character; Blobby then deliberately annoys the sleb, destroys the set, etc.
In other words the awfulness of "Mr Blobby" was a given. More, it was an aim. By Christmas 1993 Blobby was a national figure so his effectiveness as a prankster was long over, but there was enough time for one last great prank – get to number one with a record designed to infuriate, but that people would buy anyway because it would be funny to see it at the top of the charts, especially at Christmas. Hardly anyone had heard of "trolling" but here it was.
If you were being melodramatic – or keen on a bit of trolling yourself – you might say that this is the moment when the British public give up on the charts, turn their back on the one-shot dance hits, the first-week price-fixing, the return of boybands, et al. "Sod this," the public cry, and vote for a deliberately stupid single by a pink jelly monster. Except I don't think there was any malice in it – this isn't a "Killing In The Name" type of incident, where one species of pop was pitched against another with plenty of sneering on each side. Nobody stood to win or lose. It was – like Blobby in general – just slapstick, corporate Dada, highly merchandised nonsense. It's true that Blobby struck an awful lot of nerves – he was a lodestone for a wider debate about "dumbing down", the BBC's shift to an internal market under John Birt, a lurid, shambling "why we can't have nice things" symbol for a vaguer sense of cultural decline.
But he was also a man in a rubber suit who fell over a lot. And this is his single, coming on like a megamix of previous novelties – the tinny Casio rush of Bombalurina, a chorus of kids a la St Winifreds, three-line-whip jollity (not quite as gritted-teeth as The Stonk), and plenty of parping and farting because, er, Britain. And what do you know – it improves on its sources.
2
Comments
«
1
…
6
7
8
All
«
1
…
6
7
8
All
Add your comment
Top of page