3
Oct 11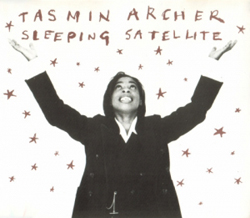 One-hit wonders can catch time in a bottle like no other records, since there's barely any career context to distract you from your memories. "Sleeping Satellite" feels achingly 90s, but its mix of busker's strum, baggy backbeat, and surprise-attack solos isn't itself typical of any trend – except maybe a vague cosmopolitanism that encouraged such mild genre-blending in the first place. Its one-off cousins are 4 Non Blondes, Lisa Loeb, Natalie Imbruglia even – awkward sincerity throwing cool pop shapes.
But Tasmin Archer's track has a heartfelt push to it even the best of those songs lack. Listening to "Sleeping Satellite", for a long time I couldn't work out why Archer was singing such palpable gibberish as if it meant something intensely important. She's really trying to sell this thing – her enthusiasm and commitment is what keeps the track from gumming up, and what makes the sudden Hammond freakout work too. The fault was mine, though. "Satellite" comes draped in riddles and convolution but I'd never gone much further in than "I blame you…" and assumed this was a break-up metaphor. And not, say, a record about a generation's post-1969 existentialist crisis. As Jarvis Cocker put it, later and more sardonic: "We were brought up on the space race / Now they want us to clean toilets."
This, it seems to me, is part of what "Sleeping Satellite"'s articulating: a sense of disappointment bordering on betrayal that having dreamed of the Moon – or indeed, because it got there – humanity now seems confined to a slowly boiling Earth. This is potent, raw stuff and very difficult indeed to cover effectively in a pop song. And in truth Archer doesn't cover it effectively – the song's ambiguous and flowery, its emotional kick comes from Archer's self-belief more than anything you can read into it. But I have to say I like the idea that she tried.
7
Comments
«
1
2
3
All
«
1
2
3
All
Add your comment
Top of page