3
May 11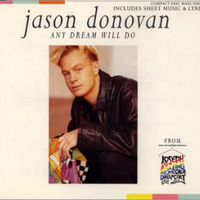 Like – I suspect – an awful lot of kids born in the 70s or 80s, I have taken part in a production of Joseph And His Amazing Technicolour Dreamcoat. I did not play the lead – the Hamlet of pre-teen stage roles – instead I was Potiphar, the Egyptian merchant who catches Joe in the clutches of his lustful wife. He gets one line in the show, as follows:

"Joseph, I'll see you ROT IN JAIL.
The things you have done are BEYOND THE PALE."
I had to put on a tea-towel Arabian get-up and a deep voice, and then fidget around backstage for the entire rest of the performance. It was great!
The result of this is that Joseph done by grown-ups feels wrong and foolish to me; it would be like seeing Ernie's Incredible Illucinations in the BBC Autumn drama line-up. "Any Dream Will Do" isn't meant to be a thoughtful meditation on how with self-belief one can achieve any goal, it's a final show-off number for the lead kid actor while the whole rest of the cast cram on stage and try and upstage him (or just pick their noses). And – importantly – it ends not with a mumbled "any dream, any any dream" routine but with a lung-busting "GIVE MEEEE MY COLOURED COAT!". Cue bows, applause, sighs of relief from Dads.
So even if he was born to be Joseph, Jason Donovan is Doing It Wrong. And in any case, he's wooden: never a singer to whom gusto comes naturally, he turns "Any Dream Will Do" into a wet fish of a thing. It's not a brilliant song to begin with, though in Joseph's pot-pourri of eager, smart-alec pastiche numbers it's about the only thing you can extract and run with as a stand-alone. At least in one area the single has the authentic school hall tang to it: the cheapo production, all gross marimba overload and splashy synth chords, sounding like it's coming out of a drama teacher's tape deck. It adds up to a baffling, and unwelcome, number one.
2
Comments
Add your comment
Top of page