14
Feb 11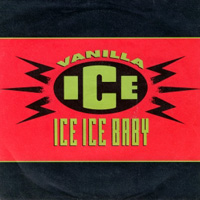 It seems to me that in America there's been a teensy bit of media revisionism around "Ice Ice Baby". Unlike most revisionism though, the idea isn't that the track was a lost classic. No, the point is to suggest it was extreme in its badness, superhumanly awful, one of the worst records ever – it shows up on lists of same and at the culmination of one Vanilla Ice himself arrived and staged a burning of the master tape. "Ice Ice Baby" was so terrible it had to be put beyond use – wiped out like smallpox, to use a simile you can imagine the man himself rapping, in that jabby monotone of his.
The effect is to suggest that Vanilla Ice's career was a collective moment of madness, a huge "What were we thinking?", and to cover over the fact that Occam's Razor had it right the first time. Vanilla wasn't promoted as a novelty, wasn't sold as one, wasn't really bought as one. The thing that made him different to most of the lame MCs around at the time – and pretty much all the good ones – was the thing he helpfully pointed out in his name.
And as everyone said at the time, 25 years after Elvis the biz still needed a white guy to sell a black sound. This was a little unfair, and not just to Elvis: rap was mainstream with or without Vanilla Ice, and his album replaced MC Hammer at the top of the US charts. More telling, though, was that "Ice Ice Baby" was the first hip-hop Billboard #1 single – a position determined by airplay as well as sales, so one more reflective of tastemaker conservatism. The wider industry was comfortable with the notion of a white rap superstar, and never mind that he was no good.
There were elements of that attitude in his UK success too. But over here, more credible hip-hop tracks never had much chance of reaching #1 – from the mid-80s you'd find rap singles bouncing around the lower 20s, but it was always the gimmicky stuff that sold, and in a UK context Vanilla Ice really was just another novelty. In fact "Ice Ice Baby" seems like a kind of culmination of all the Euro-rap, pseudo-rap, gimmick movie tie-in rap – some good, some not – we've seen feature in Popular through 1990.
That doesn't make it anything other than a feeble record. But it's not an all-time stinker. It rests on a very strong idea – nicking the "Under Pressure" bassline and placing it under dessicated beats creates a mesh of malevolence a good storyteller could make a lot of. It's such a strong idea that with half an ear – heard in snatches on the radio or on the Chart Show – you might think Vanilla Ice is that storyteller. And then you listen a bit closer.
The Iceman ruins the record in three different ways. There's his flow – all those big end of line stresses are fine when he hits on the occasional decent image ("like a pound of BACON") but they gum up his storytelling and make it hard to follow. So the track is rhythmically monotonous, and then his tone is unvarying too: he has a constant undertone of weaselly aggression. "Ice Ice Baby" is mostly brag with a side order of narrative, but even the bragging needs some kind of charm and variety to work – and the tone makes his party and gun talk rote and unengaging too. And then there's the most serious issue – Ice just doesn't seem in control of his words. He's careless with metaphors – "flow like a harpoon daily and nightly"; "my style's like a chemical spill" – wait, how is that good? By the third verse he's rhyming poet and know it, drawing attention to it with those bloody line-ends, and any goodwill created by his sample choice is long, long gone. Though to be honest you could have given up at the very start – what on earth is "collaborate" doing aside from fill up syllable space?
So what were we thinking? Vanilla Ice sounds like a man who likes hip-hop but can't do it very well, and the track's success here isn't just down to his race. "Ice Ice Baby"'s very clumsiness is what makes it accessible – a big friendly sample, an easy to imitate flow, no great technical skill. It comes at the start of a period that's the pop equivalent of the public's switch from beer to wine in the 70s. Some oenophiles knew what they were doing and bought accordingly, but the mass market for wine was built on the likes of Blue Nun and Black Tower – Dubonnet at a pinch – and from there began a gradual climb to relative sophistication. Similarly, there would come a time when hip-hop – or at least, records that would have been impossible without hip-hop – would dominate the UK charts. But not at once, and not without a lot of education. Vanilla Ice is part of that – his unpleasant white whine is pop's Liebfraumilch.
3
Comments
«
1
…
4
5
6
All
«
1
…
4
5
6
All
Add your comment
Top of page