14
Dec 10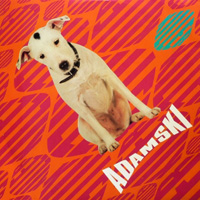 From Yazoo onwards, collaborations between electronic musicians and soul singers have followed certain protocols. The singer is the star, the living presence on the right-hand side of that "featuring": the producer is the mood-setter, the collective. Human vs robot, emotion vs rhythm, soul vs body, warm vs cold, blah vs blah. It's not that the resulting records have been bad – smoky voices and harsh synths do sound terrific together – but the rules of engagement were laid down early and hard.
"Killer" shows us a different approach. What was startling about the record in 1990 – and what lets it keep its charge now – is that the music simply refuses to get out of Seal's way. In fact, if you only knew Seal from the rolling smoothness of his latterday career "Killer" would come as a real shock: here he is, making his debut not as a highfalutin' loverman but as an isolated paranoid battling through a tangle of wires and buzz. Adamski is truly as much the star here, putting together a tense, crisp piece of house music which doesn't actually need his singer to be memorable (though surely needed him to reach number one).
The nature of the game becomes apparent very quickly: when Seal sings "Will you give, if we cry?" and as he emphasises "give" the keyboards suddenly flare angrily up, a surge of 303 squelch almost drowning him out. From then on the track matches him blow-for-blow for a while, backing him up with the snap of martial hi-hats then upstaging him with harsh acid textures. Both sides have moments where they relax – that house piano break (which dates the record badly, since it fits the song far less well than it did "Vogue") and Seal's widescreen musings about racism and sons of future kings. He's never been the most comprehensible lyricist – but on "Killer" it doesn't matter at all, since the meaning and meat of the song is all in the co-dependent struggle between voice and sound.
8
Comments
«
1
2
3
All
«
1
2
3
All
Add your comment
Top of page