14
Jun 10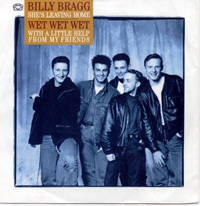 As I hinted last time "Little Help" showed up, it's probably the most inappropriately covered Beatles song. It's such a strong sentiment and such a rousing tune people can't seem to resist it, but it only really works for me when Ringo takes his best sturdy shot at it on Sgt.Pepper's. Everyone else sounds too confident, Marty Pellow certainly included. Pellow starts humble enough here but for the second half of the song he begins to showboat, borrowing phrasing from the Joe Cocker version ("ooh I get BAH widalittle help from MAH FRENDZ"), then 'cutting loose' to put some of that studied throatiness into the tune on the "love at first sight bit", the 80s soul man's vocal version of designer stubble. Though that's also the only bit this perpetual smoothie sounds sincere on, since it strongly implies ditching those gooseberry "friends" forthwith in favour of Hot Pellow Action. Who needs them anyway? A little help can't beat a whole lot of lovin'!
It's undoubtedly Wet Wet Wet who pushed this charity single into our consideration, but for some fans it's redeemed for its smuggling Billy Bragg to number one. Bragg's side is certainly better: not lovely or subtle or re-listenable as the Beatles' version, but it's an intelligent cover by people who've thought about the song. Lugubrious though he is, his "She's Leaving Home" shaves a half-minute off the Beatles' original, mostly through switching the arrangement from George Martin orchestral lacework to simple piano-and-voices. That also fits a change in tone in the song. Though the Beatles' version draws a lot of its power from McCartney's sad, even-handed lead, there's a straightened-doilies prissiness in the music which links with the lightest of backing vocal sneers from Lennon to tilt your sympathy towards the fleeing girl. You know exactly why she's running and what she's hoping to find – she wants to break out of the Berni Inn, light programme sixties and jump into colour and life.
But in Bragg's version it's less clear-cut: Cara Tivey sings the parents' side with a flat, baffled sincerity, and the robust piano makes the song all the more hurt and stoical. By 1988, after all, a lot had changed, and ideas of "fun", upward mobility, aspiration and cutting free of your roots were a little more double-edged – especially to a socialist like Bragg. The sadness and ambivalence were in "She's Leaving Home" already: for me Bragg just shifts their direction a little, back towards the parents and away from the girl and her man from the motor trade with his Wet Wet Wet album on the in-car tape deck.
4
Comments
«
1
2
All
«
1
2
All
Add your comment
Top of page