4
May 10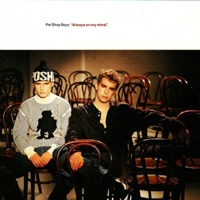 In the comics series Phonogram, there's a scene in which the – kind of horrible – pop DJ Seth Bingo and his indie collaborator Silent Girl are struggling to work a recalcitrant dancefloor into life. Their solution? "Play the Blondie!" – a copy of "Atomic" which literally glows as it's withdrawn from its sleeve.
Every club and every DJ has this kind of record – the song you put on as an act of faith to galvanise the night, or as an act of celebration to help it to its peak. "Always On My Mind" has been one of mine. There comes a point whenever I play pop music to a crowd that I want to play the Pet Shop Boys, and the next question becomes, well, why not play this? Those five seconds of groans and drum tracks to alert the lapsed or doubtful and then – boom! The mighty, unmistakable synthesiser fanfare which is the Boys' great addition to the song, kicking off one of the most simply and sympathetically joyful tracks we'll ever encounter, a gallop of sequenced Eurodisco drum lines and bright blasts of keyboard in service of the original track's warm chords.
"It's A Sin" found the Pet Shop Boys pushing their hi-NRG arsenal into the red, conquering pop by overloading it: "Always On My Mind" unleashes the same level of force but this time they're handling it with happy precision, while somehow preserving the song's humility under all the flashes and bangs. They manage this partly through another marvellous performance from Neil Tennant. He can't compete with the arrangement's fireworks so he stands back from them, making himself a calm, sincerely regretful presence in the middle of the track, and making "Always On My Mind" seem as heartfelt as it is grandiose.
Of all their big singles it's perhaps their most relaxed – there's no particular cleverness or conceit, no great message to take away, nothing ironic or 'subversive'. Their other hit covers have points to prove: "Where The Streets Have No Name" is a bit of anti-rockist mischief making, "Go West" a defiant coming-out parade. Here they are making a huge technicolour hit simply because they're pop stars and that's their job: "Always On My Mind" has no real gameplan or reason to exist other than to delight people. It feels – appropriately for a Christmas Number One – like a gift, and I think that generosity is what makes a friendly dancefloor always respond so well to it. I don't play "Always On My Mind" every time I DJ – there are always too many new and rediscovered peaks to fit in – but if the night's gone well I always feel like I did.
10
Comments
«
1
2
3
4
All
«
1
2
3
4
All
Add your comment
Top of page