31
Mar 10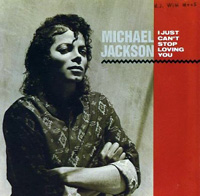 In a piece I wrote last year for Zero Books' The Resistible Demise Of Michael Jackson, I argued that the sense of self-conscious scale and event in 80s music came partly as an after-effect of Thriller's colossal sales, which suggested an inflated reach for pop, an expansion in the limits of what was commercially possible. This was a fantasy – no record has come close to Thriller's sales since – but it created a moment in which pop, and specifically Jackson, could sit at the centre of a celebrity universe.
Bad was the product of that moment and as such it's probably the hardest of Jackson's records to get a handle on, since it mostly exists as its endless parade of singles, a two-year processional ending in the pure decadence of "Liberian Girl"'s celebrity-soaked video. In America, "I Just Can't Stop.." was the first of five #1s in a row for him: in Britain, it's the only Bad single to top the charts – his grip was beginning to slacken.
The odd thing is, it's probably the least memorable of the "Bad" songs: within the album's marketing life cycle it's the polite cough and baton tap to signal that the show is about to begin. Thriller had kicked off with something similarly low-key musically, but "The Girl Is Mine" had the clout of McCartney's involvement, an early sign of how inclusive he was aiming to be. "I Just Can't Stop Loving You" has Siedah Garrett, who does a quiet job, goes uncredited on the sleeve, and makes it easy to forget this is a duet at all. (Wikipedia suggests her role was intended for Streisand or Whitney, which would have made for a higher-impact record though not necessarily a better one).
What about Jackson himself? He flutters around the verse delicately but inconsequentially, saving himself for the chorus, which has flashes of his typical urgency, his tic-fuelled ability to make it sound like something big is at stake in any song. But less here than before or after – there's not the hunger of his earlier hits or the anger and anguish of his later ones. The thunderclap-driven power ballad format he's trying here would stay part of the Jackson style – a lot of his 90s singles use it, including his most flummoxing and highest-selling number one. But "I Just Can't Stop" never quite shakes off appetiser status.
5
Comments
Add your comment
Top of page