18
Mar 09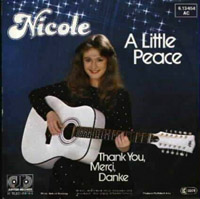 In the world of Marvel and DC Comics, the 100th, 200th (etc) issues of a title were considered real milestones. To maximise sales of these anniversary specials, the companies would often use them to launch particularly big storylines: deaths, marriages, epic battles. But often this meant that the run of issues immediately before the anniversary were especially poor – the title would be in a holding pattern, putting out meaningless and unmemorable issues to kill numbers before the big one, and following it would become a chore. If the long-awaited 500th issue also turned out to suck – well, you can imagine how frustrating that was.
Anyway, here's Nicole, Eurovision winner, earnest German lass, 500th UK Number One. Singing a song about peace – who could object to that? Not the Eurovision juries, who must also have appreciated the absolutely thumping key change at two minutes and the flowery string arrangement throughout. I've never been able to shake off a basic cynicism whenever a Eurovision entrant plays the peace card – of course every Song Contest entry is calculated but this seems such a clumsy gambit. Judging by the way the tactic has withered since the introduction of Eurovision democracy I'm not alone in this.
The only thing that stops Nicole's song being completely dreadful (in fact raising it all the way to quite dreadful) is the way she redeems the key change with the yearning counter-melody of "we are feathers on the breeze / sing with me my song of peace". It doesn't make sense, but nor does her apparent belief that a leaf falling from a tree will be better off if there is someone below. Otherwise this is feeble fare – a crass bid for campfire immortality at the youth outreach group.
2
Comments
Add your comment
Top of page