22
Apr 14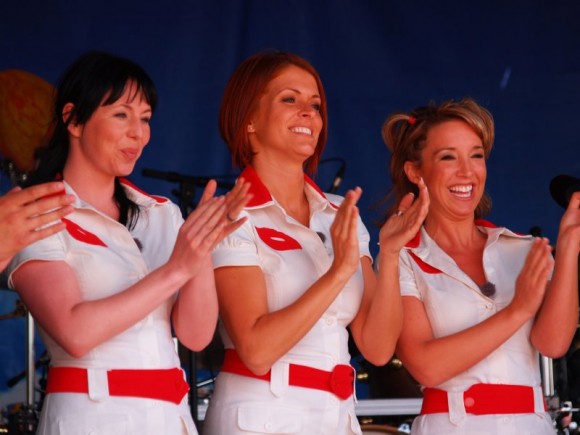 Welcome to the final group stage game in the Pop World Cup! I'm sorry it's been so delayed – the result is that we'll have a truncated voting time: you have UNTIL FRIDAY AFTERNOON to get your votes in on this. So let's see how things stand.
South Korea (managed by Iain Mew) are in pole position with 5 points. Anything short of last place in this game and they're through. Below them it's something of a dogfight. Algeria (Katherine St Asaph) maintain a slender advantage with 3 points to Belgium (Glynn)'s 2.5. Russia (Chelovek Na Lune) have 1.5. Russia need to go for the win, but all these sides really need to beat the other two.
Songs, votes, and a bumper results report below the cut.

SOUTH KOREA: Lip Service – "Yum Yum Yum"
"We may be nearly through, but we're not there just yet, and our team are still hungry. Really hungry. Did someone say 'hamburger'?"


ALGERIA: Cheba Sihem – "Mazel Nebgigh"
"French-Algerian artist TRANCES OUT! Featherweight multitracked vocals, a big instrumental breakdown, solos, vocoder solos, reverb, and generally everything else one could possibly want."
BELGIUM: K3 – "Ey-O"
"From what I can gather (and if it turns out this is actually an extended sketch by Ghent's version of Smack the Pony then I apologise) K3 are a full on 360 degree media empire, encompassing sitcoms, stage musicals and a reality show. They're also very much 'for the children', but in a world where everyone watches Adventure Time and Bis exist then that shouldn't put you off. Look beyond the pirate costumes and theres something almost terrace-chant-y about this song, which rings the maximum possible amount of hook out of its two syllables. Harks back to a pre-xenomania age where pop was naff and Phillipe Albert still had a moustache."
RUSSIA: Mooncake – "Gazania Blossom"
"Road-tested just now on a spring evening on headphones on the top deck of a double-decker bus hurtling down country lanes, Mooncake play a long, patient, proficient, mature, game, building, and building, until VICTORY IS THEIRS. Watch out for the orchestra at the start of the second half – they are the most prized of our strikers. Not a second wasted in this performance. They were, they are, they will be."
THE POLL:
H3: Which TWO Tracks Do You Pick?
SOUTH KOREA: Lip Service 76%

ALGERIA: Cheba Sihem 46%

BELGIUM: K3 43%

RUSSIA: Mooncake 27%

Total Voters: 37

Poll closes: 25 Apr 2014 @ 16:00

Loading ...

RESULTS (1): In Group F, Nigeria were already qualified and Bosnia-Herzegovina already eliminated, but those sides responded in very different ways. The Bosnians rallied to win their final game and depart their debut tournament with heads held high, while Nigeria's decision to rest key players resulted in zero points. Inconsequential? Perhaps not. Nigeria's defeat meant Iran's 2 points were enough to see them top the group on percentage difference, with Argentina settling for third. Iran go on to face Switzerland in the Round of 16, while Nigeria have a tasty tie with France to look forward to. Congratulations to Wichita Lineman and Cis, commiserations to Scott and Chris, and thanks to them all for their excellent efforts. Final Standings: 1 – Iran (6 points, avg 54%). 2 – Nigeria (6 points, avg 51%). 3 – Argentina (3 points, avg 46%). 4 – Bosnia-Herzegovina (3 points, avg 38%).

RESULTS (2): Group G's three-way tie resolved itself by another handy win for an imposing Ghana side, with the USA picking up second place in all three matches to take the second qualifying spot (and line-up a potentially mouth-watering tie with the Koreans). Portugal couldn't manage to get anything from their final game, with Germany taking a single point home – some consolation at least for a frustrating campaign. Congratulations to Jonathan Bogart and The Lex, commiserations to Weej and Tak. Final Standings: 1 – Ghana (7 points). 2 – USA (6 points). 3 – Portugal (4 points). 4 – Germany (1 point).

Comments

Add your comment

Top of page

Related Posts

About the Author

Tom invented Freaky Trigger on a bus journey in the mid-90s. A page about what he's up to can be found

here

Featured Posts