13
Mar 14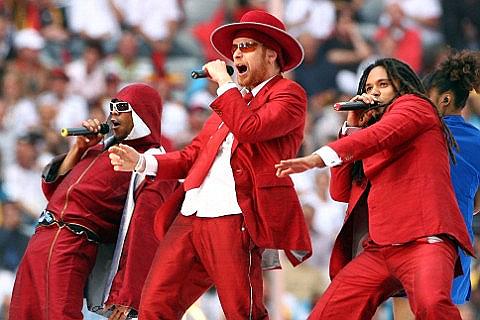 Group G's middle game sees Ghana (Jonathan Bogart) in front after narrowly beating the USA (The Lex) last time. Behind them come Portugal (Weej) and Germany (Tak) who will be looking to make more of an impact on this very tough group.
As ever, play the four songs and vote for two below the cut – where you'll also find the Group E results and our first European qualifier for the knockout stages!

GHANA: Becca ft 2Face – "Badman Badgirl"
Current Points: 3
"We've opted to go with a more traditional forward lineup this time round, playing the breezy-but-technical game that brought the Ghana squad to international attention way back in the 60s. The back half is all heavy modern bruisers, though, and our star striker can run rings round the pitch without breaking a sweat."
USA: K.Michelle – "Hit 'Em In The Mouth"
Current Points: 2
"One of the most striking new voices in R&B finally got her (excellent) debut album proper out last year, but back in her mixtape days she was even more pugnacious – but not without good reason. No one will want to mess with her on the pitch."
PORTUGAL: Buraka Som Sistema – "Hangover (Ba Ba Ba)"
Current Points: 1
"There comes a time in any Portugal manager's career when he has to break open the box marked 'Buraka Som Sistema'. That time is now."
GERMANY: Seeed – "Deine Zeit"
Current Points: 0
"German reggae/dancehall isn't, as far as I know, a well explored category. But this offbeat number, complete with big-band inspired horn section and brass band number, is quite the addictive head-nodder."
THE POLL:
G2: Which TWO Tracks Do You Pick?
PORTUGAL: Buraka Som Sistema 61%

USA: K.Michelle 42%

GHANA: Becca ft 2Face 39%

GERMANY: Seeed 35%

Total Voters: 71

Poll closes: 20 Mar 2014 @ 13:00

Loading ...

RESULTS: Congratulations to FRANCE, who have qualified for the knockout stages and look set to top Group E after a second consecutive three point haul. Behind them are Honduras, who pick up 1.5 points after tying with Switzerland. Ecuador end up with the wooden spoon and no points from this game. What does it all mean? Honduras will qualify with another 2nd place finish or better. Switzerland or Ecuador will go through if they win and Honduras come last. Other results may well go down to the dreaded percentage point shoot-out. It's a nail-biter! (Except for France). Standings: France – 6 points. Honduras – 3.5 points. Switzerland – 1.5 points. Ecuador – 1 point.

Comments

Add your comment

Top of page

Related Posts

About the Author

Tom invented Freaky Trigger on a bus journey in the mid-90s. A page about what he's up to can be found

here

Featured Posts