3
Feb 14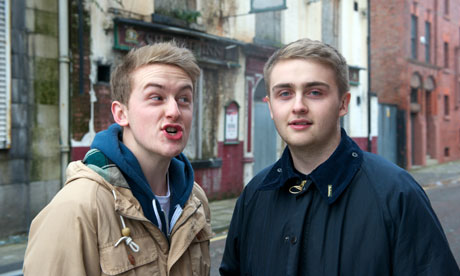 Welcome one and all to Group D! England are probably the biggest pop name in the group, but they haven't won the Pop World Cup since Revolver came out. Can manager Ronald change that? Two other countries have gone for experienced hands – PWC '10 finalist Andrew Hickey takes over Italy, and minnows Costa Rica have recruited Europop 2008 winner Pete. Perennial dark horses Uruguay, under manager Matthew, make up the group.
As usual, perm 2 from 4 in the poll below the cut.

URUGUAY: Dani Umpi ft Marabish – "3 Pasos"
"Sambayón," the latest single by genderfucky Uruguayan Dani Umpi, has a wonderful and trippy video that's worthy of far more than the 10,145 views it's scored thusfar on Youtube. Sadly, though, the song itself isn't so hot. This song, on the other hand! This song is hot. There's counting! Counting is always good. "3 Pasos" was the lead single from Mormazo, the follow-up to Umpi's kooky 2009 covers album, which featured folksy, chaotically pronounced renditions of classics like "Rent," "Lovefool," and "The Sign."


COSTA RICA: Colornoise – "Button"
"Costa Rica, home of the Resplendent Quetzal, Three-wattled Bellbird and the Bare-necked Umbrellabird, has never been renowned for its indigenous music scene. Over-shadowed by the other Rico – Puerto that is – there is still no end of folklorica, reggae and a surprisingly vibrant strand of death metal. But when looking at the bench, there was really only one group straining at the bit to represent their country – the experimental noise pop post punk angular shooting styles of Colornoise. Button is a no nonsense short blast of Dry era PJ Harvey shoutiness – an oddly compulsive earwormer. We are rightly seen to be the minnows in this group, but we are coming out all guns a-blazing, enjoy Alison and Sonya: Colornoise."


ENGLAND: Disclosure – "You And Me (ft Eliza Doolittle)"
"Disclosure takes a classic garage beat and updates it for today. This song fluctuates between a cool, polished gleam and feverish energy. It makes you want to dance but also gives you some room to breathe. They're definitely one of the bright lights to emerge on the music scene recently. They have such a musical touch that belies their ages (19 and 22). For me personally, You & Me is the song that best illustrates their ability to meld dance and pop sensibilities into something beyond your run of the mill dance pop."


ITALY: Radio Days – "Don't Break My Heart"
"Don't Break My Heart is by Italian powerpop band Radio Days, whose single Love & Fun was listed in Andrew Loog Oldham's "Coolest Songs In The World 2013″. This is less powerpoppy, and less McCartneyesque, than most of their stuff, but still has as many hooks as their more uptempo tracks."


THE POLL:
D1: Which TWO Tracks Do You Pick?
ENGLAND: Disclosure 65%

URUGUAY: Dani Umpi 42%

COSTA RICA: Colornoise 33%

ITALY: Radio Days 29%

Total Voters: 92

Poll closes: 10 Feb 2014 @ 12:00

Loading ...

RESULTS: A dominant win for the Netherlands in Group B, taking home 3 points thanks to a home crowd-like enthusiasm. They really acted as a 12th man here.* Australia's dreampop trailed some distance behind, but 2nd place is 2nd place, and they grab 2 points. Chile get off the mark with a single point – scant reward for the extreme length of their track, some might say. And finally Spain have had a rocky start to their PWC campaign, with their traditional tactics getting them only "a Eurovision" in this match.

*Just to reiterate what I said in the comments thread: please do NOT directly bring the PWC to the attention of the artist or their label. One RT from a featured act can break a match completely, especially as – if the Holland experience is anything to go by – none of the influx of fans bother listening to the other records! This result stands, though, cos I didn't formulate the rule until after the match.

Comments

Add your comment

Top of page

Related Posts

About the Author

Tom invented Freaky Trigger on a bus journey in the mid-90s. A page about what he's up to can be found

here

Featured Posts