17
Jul 18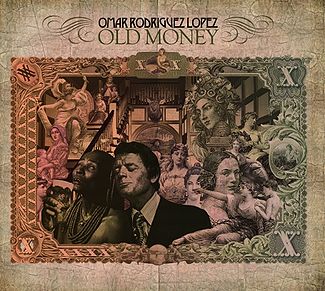 Old Money is like a crazy quilt with no immediately discernible pattern upon first inspection. There's so much happening, it's impossible to take it on all at once. The riff-squares are stitched together with your typical rhythm section, plus woodwinds, plenty of added effects, and some more unusual rock instruments, such as clavinet, wurlitzer, and theremin. As in much of Omar's early solo work, however, the guitar is the star. It's the seminal ORL sound – ORL Original Recipe, if you will.
And you should, because Old Money's rock-out guitar A swirls tauntingly around guitar B's wah-wah, creating an ecstatic hurricane of beautiful noise to become swept into. Although it's not his first solo release, it was the first I ever heard and feels like the most appropropriate place to start, and listening to it feels like coming home for me. It was nearly a follow up to The Mars Volta's Amputechture and in many ways feels like homework for The Bedlam In Goliath. I'm reminded of those heady days of new fandom, that first flush of obsessive love. Though it would be inaccurate to say that it's the gold standard by which all other releases are measured, it does serve as a kind of guitar-oriented litmus test, and I sometimes categorise other albums based on how Old Money-esque they sound.
»
More
13
Jul 18
What if a World Cup lasted ALL YEAR? That's the experiment we appear to be running with this year's PWC, and a grand experiment it is too. Here we are with the fourth match, group C, which even features a team that is STILL IN the football tournament. France are one of the great exponents of the modern pop game, but Denmark have form too, and Peru and Australia are tantalising prospects. Listen to all four tracks below the cut, and vote for your favourite two.
Pop World Cup 2018 Group C Match 1: Pick TWO tracks
AUSTRALIA: Ngaiire 74%

DENMARK: Soleima 47%

PERU: Animal Chuki 37%

FRANCE: Keep Dancing Inc. 32%

Total Voters: 38

Poll closes: 19 Jul 2018 @ 12:04

Loading ...

FRANCE (Manager: Sam Walton): Keep Dancing Inc. – "Life Goes On"

"Paris' Keep Dancing Inc lead their country out for their first match with the kind of classically French, vintage but super-technical short-passing build-up play that will mesmerise fans, opposition and neutrals. Drawing from the proud traditions of French pop's recent past, Life Goes On blends just the right levels of sleepiness, wobble and melancholy, with two deep-lying forwards in the form of shimmering guitar chords and rich arpeggiated synths supporting a central striker vocal full of youth, confidence and (of course) insouciance. It may appear to be an unassuming start, but like the great France performances of previous international tournaments, Life Goes On just keeps building, self-assured in its own class and irresistibility. Peruvian, Aussie and Danish defences should be very wary indeed, Clive."

PERU: (Manager: Garry McK): Animal Chuki – "La Venenosa")

"Peru's squad contains mastery of the full range of international tactics, but we've decided to open our tournament in a very modern Peruvian style. Animal Chuki were forged in Lima's digital cumbia/tropical bass scene with strength at the back, relentlessness in middle and a skittish front line. We're hope to harry our opposition all the way."

AUSTRALIA: (Manager: James Errington): Ngaiire – "Diggin'"

"Far away from the oversaturated scenes of American and Eurasian pop football, Australia have spent the last four years quietly honing a team of gifted, polished players. Wisely, they've adopted the tactics of the All-Blacks and started looking to the wider area for talent. Ngaiire was born in Papua New Guinea, but moved to Australia as a child. Her music has been labelled "future soul" – but the futuristic elements are kept low key, tightly wound percussion and nervous synth stabs, while the soul is bared, often painfully so. Diggin' is "a song about being found before you find yourself in a permanent state of no return." and in a just world it would have been her worldwide breakthrough. Maybe it can be now."

DENMARK: (Manager: Jack B): Soleima ft Hoodboi – "Breathe"

"'Breathe' is a slick, slyly addictive pop song, and Soleima's understated, slightly wry delivery is perfect for it. 'I wanna daydream with you, just so we can breathe' goes the chorus, which as far as I can tell means what the Danish apparently call ikke noget, but is just lazy enough (in a good way) to fit the atmosphere of the song very nicely. It's cold enough to sound cool, but warm enough to sound summery, and (more importantly) to sound good on a taxi radio at night, the best possible place to listen to this type of song. Even if this isn't your cup of £6 Carlsberg now, I suspect that this is exactly the kind of sound that in a few years will make you feel oddly nostalgic for the mid to late 2010s, even if you're not quite sure why. This is my Denmark team's Claude Makelele figure, doing more than you think."

RESULTS: Over in Group F, South Korea make a confident start to the tournament – not their most dominant performance but it's still 3 points in the bag. Behind them in the Group of Death, Sweden slip up and lose second place to a stylish Mexico side. Germany's tactics have been found out and they may be heading for the same ignominous exit their footballing counterparts suffered unless they can rally in the second game.

9
Jul 18

I came late to The Mars Volta, becoming a fan after my friend Glynnis sent me ripped copies of De-loused in the Comatorium and Frances the Mute. I'd been looking for new music, and as I'd gotten her into my favourite band, The White Stripes (RIP), it seemed appropriate to check out the band she'd been raving about for ages.

I was vaguely aware that "progressive rock" existed as a genre, but apart from Pink Floyd or maybe Rush, I couldn't tell you what it was supposed to sound like, other than it probably wasn't for me and that The Mars Volta was grouped into this genre. They did not sound like Pink Floyd, or Rush, or indeed like any other band I'd ever heard before. They sounded like everything at once, when it wasn't so quiet you could hardly hear it. They sounded like the ravings of a mystic spouting the mysteries of the universe solved, if you could only crack the code. They sounded like despair laced with hope layered over a bedrock of blistering guitar, insane drumming, steady and yet somehow confusing bass, and thrilling, rollicking keys. They sounded like the band I never knew I was waiting all my life for. I was hooked from that first sirenny riff from De-loused, and fell particularly hard for the enigmatic and visceral lyrics, and vocals I didn't think were humanly possible.

In a way, I was glad to arrive late to the party because it meant I still had Amputechture and The Bedlam in Goliath to discover. I listened to the shit out of them, amazed that yes, even after several dozen plays I was still decoding the lyrics and still dissecting the strata of sound. I bought my own copies of them all and must confess that sometimes I do miss CDs, because having the lyrics to hand is very necessary. First, because I genuinely can't understand a good deal of them until I've seen then written down and, contrary to Jarvis Cocker's instructions, often read the lyrics whilst listening to the recordings. Second, because I am in love with the delphic, weird, often silly, sometimes disgusting but also beautiful imagery, and want to study the lyrics and work out how they fit the greater narrative. Coupled with Cedric Bixler-Zavala's powerful, heartwrenching vocals, it's a recipe for continual revelation.

I couldn't get enough, and was both happy and overwhelmed when I learned that Omar Rodriguez-Lopez had released solo albums as well. By the time I'd realised Old Money existed, he'd already released seven albums. If ORL was a writer, he'd have published 15 books, all of them 700 page tomes. I have a lot to catch up on, I thought, and tried to keep up via my haphazard collection of CDs, digital downloads and streaming from the (now defunct) ORL Productions website. It was not enough, especially in light of the fact that he was releasing four or five albums a year. And then The Mars Volta disbanded in a heartbreakingly acrimonious rift, and I was determined to hear everything I could in an attempt to keep them alive in my heart and in my ears.

He slowed down a bit around that time, or so I thought, releasing only one album in 2013 and then nothing at at all (apart from a Bosnian Rainbows album, the band that effectively broke up TMV, and Antemasque, the one that kind of reunited them) until 2016, when he released 12 albums with Ipecac Recordings and another 12 the following year, clearing his back catalogue.

At the moment, I think I have heard most of them at least a few times, but I'm still far from caught up. With a discography this big, it's hard to figure out what I want to listen to. "I'm in the mood for some ORL" is all very well and good, but which ORL? Which are the instrumental albums? Which are the jazzy albums? Which are the synthpop albums? Which are the Spanish language albums? Which is the one that sounds more like Jack White than Boarding House Reach does? Which is the one that is literally a collection of random sounds? Furthermore, I'm sure this track is a reworking of previous material, but of what and from which album? This track is definitely on another album but with a different name. Defining the ORL sound is impossible, but it may be possible to catalogue the albums, in a fashion.

Happily, it's relatively easy to access most of them – all the Ipecac Recordings releases are available on Spotify, and YouTube and Bandcamp fill in most (and possibly all) of the remaining gaps. Finding reviews, on the other hand, isn't quite so easy, especially for the older and less easily accessible albums. So I've decided to review every ORL solo release (as per Discog's list) that I can access, to help me catalogue them, to understand why I love them, and to possibly win over a few new fans. Maybe by the time I finish, The Mars Volta will have confirmed their reunion, complete with a triple-album release and world tour starting with a week's residency in London. I can dream!

7
Jul 18

[This post originally went up at my PATREON: subscribers get to read posts and hear podcasts early — and help offset costs and time and help me do more of this kind of thing. Please share widely and encourage participation in the comments!]

It's 1971, and here's Nick Tosches reviewing Black Sabbath's Paranoid in Rolling Stone. A friend (hi Kerr!) linked it on Facebook, alongside the cheerful question Is this the worst ever review of all time? Almost all of the 500 words are mood-conjuring the look and hideous feel of an occult orgy, little to nothing is said about the LP in question, or any other, and in fact the piece ends by misidentifying the singer as Kip Treavor, misspelled frontman of Sabbath's rival satanic-themed rock band Black Widow (it's actually Kip Trevor): "The boy whips out a 10″ personal vibrator, adorned in waterproof acrylics with the image of the Nazarene. He intones the words NUK KHENSU TENTEN NEBU and approaches her intendant fundament… impletion… across the room the fresh corpse of an illegitimate hippie baby is dis-impaled from the ceremonial sword of Baphomet. The myrrh is extinguished with the collected saliva of priests listening to tales of carnal abuse in warm, dark confessionals. The Shadaic numinae are chalked over with the mirrored sign of Ariael, the 11 rubies returned to the vessel of Dione."

But all the same I'm going to say, no, there are many many MANY worse reviews, and here's why.

»
More

5
Jul 18

Putting together a collective history for a project like this, of something you were at one time near the heart of, inevitably ends up being a series of missed opportunities. Roy Carr, late of NME, died at the weekend, aged only 73 — and I'm sad because I knew him for a while and he was a nice man, always friendly and funny and just boundlessly enthusiastic. He 's emblematic to me of a time I have complicated feelings and personal regrets about, and now I find myself wishing I hadn't taken his talents and his presence for granted when I worked alongside him. Even in the 80s he was an institution: I should have grabbed my chance and sat him down and got some stories out of him. Everyone in journalism has stories of course, but he had a thousand, going right back into the early 60s, and they were generally hilarious and scurrilous and some of them could never be told publicly.

»
More

4
Jul 18

An intriguing group for this third Pop World Cup match, with two of the sleeping giants of pop football – Sweden and South Korea – lined up against the always capable Germany and dark horses Mexico. Group of death? In a sense, they are all groups of death when YOU have the casting vote. Pick your favourite two tracks and may the best manager win!

Pop World Cup 2018 Group F Match 1: Pick TWO tracks

SOUTH KOREA: Taeyeon 64%

MEXICO: Clorofila 55%

27
Jun 18

… but already it was impossible to say which was which (or sometimes you get what you pray for — and it isn't really quite what you wanted: the MICK FARREN story)

[This post originally went up at my PATREON: subscribers get to read posts and hear podcasts early — and help offset costs and time and help me do more of this kind of thing. Please share widely and encourage participation!]

Hazel asked me in podcast 3 (the punk one) to name two pieces of punk writing that had had an impact on me as I first began to buy and read the music papers, so naturally I plumped for two pieces that ran somewhat before that (meaning, I suppose, that though I wasn't thinking of this as I named them, that the impact was as large as it was despite being indirect). One was Tony Parsons' 'Thinking Man's Yobs' NME cover story on The Clash from March 1977, a key marker in punk's evolution: from here on, the music mattered because it was political, the voice of unschooled dole-queue youth — or at least you had to push back hard if you wanted to read it another way) [Footnote 1]. The second is from nine months early, same paper, June 1976: Mick Farren's polemic 'The Titanic Sails at Dawn'.

»
More

25
Jun 18