3
Oct 19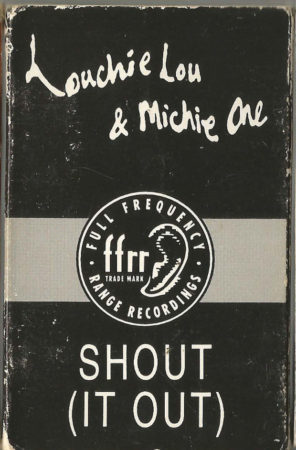 Less Popular is an occasional series where I write about hits that didn't get to #1. It's made possible by the Patreon – thanks to all my patrons.
Popular's actual coverage of the '93 Summer Of Ragga suffers a bit from the Number Ones showing up as the nights drew in – Chaka Demus and Pliers were cosy and languid, Shaggy a bit livelier but still heavy-lidded compared to "Shout (It Out)", ragga gone unashamedly, noisily pop.
Louchie Lou And Michie One never had another big hit on their own, and only had one at all by teaming up with Suggs, bit parts to a bit part in the Britpop story. But Britpop is where you might reach for a comparison – Louchie and Michie are the Shampoo of ragga, snotty and loud and enjoying every minute of snatched fame. The duo had previous – they had worked with the Rebel MC, whose take on British hip-hop ("Street Tuff") had been just as delightedly inauthentic, and just as catchy.
And the song was fit for purpose. For Brits, the most famous version of "Shout" is Lulu's, her outsize holler taking the Isley Brothers' track and turning it from a mid-show dance number into a demand to be noticed, to be heard, to cut through the throng of 1964's young men. It's Lulu's "Shout" which gives Louchie and Michie their vocal model, as they borrow her stylings to use as trail markers for their toasting. The combination is thrilling. There's something gloriously rubbery about "Shout (It Out"), each "say-ay-ay" cueing up a bouncing set of rhymes, the singers' call-and-response bumping off one another like a multiball on a pinball table, with you as a spectator, giddy they're managing to keep so much in play.
A huge part of this elasticity is down to the swipe from Mancini's "Peter Gunn", which the track steals for its bassline. It's an inspired lift, stuffing another proven hook into a track already full of them. Like the Lulu callback, it lets you glimpse in "Shout" the outline of a particularly British take on pop-ragga, a fusion of the 60s England of The Shadows and Ready Steady Go! with the vibe of 90s London. No more than an outline: "Shout (It Out)" was too committed to its own momentary joy to stand for anything wider. But it's a reminder now that other sixties were available, if we'd cared to look.
9 out of 10
Thanks to Friend Of Popular Kat Stevens for requesting this entry!
Comments
Add your comment
Top of page