5
Mar 19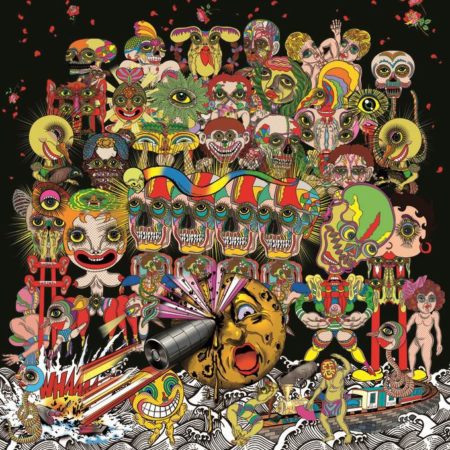 This is a document of my album-a-day listening project. Each entry originally comes out as a tinyletter and subscribers to that get framing content and non-music miscellanea as well as the LP reviews. When a new letter goes out, the previous letter goes up here.
This instalment's LPs:
#35 Sylvester – Step II (1979)
#36 Yusef Lateef – Psychicemotus (1966)
#37 James Ingram – It's Your Night (1983)
#38 Julie London – Julie Is Her Name (1955)
#39 Isao Tomita – Kosmos (1978)
#40 Various Artists – A Day In The Life: Impressions Of Pepper (2018)
#41 Zadig The Jasp – In The Reflect Of The Sky (2018)
Something I've kept on coming back to as a listener is the idea of "adult" pop, pop which seems to assume a certain level of life experience in its audience. This obviously overlaps with particular styles at particular moments when the record biz decided there was money to be made out of grown-ups: easy listening in the 50s, soul in the 70s and 80s. And it's always threatened, as an idea, by the biz deciding that actually, nostalgia and repurchases and high-ticket reunion tours are better ways to extract that value.
You can hear it in a lot of places, though – one reason I like ABBA so much is that despite having such proven cross-age appeal, mostly they're singing and writing from the perspective of people who've been around the block a few times, even before the frost of divorce starts to creep in.
The problem is, my inner life as an adult isn't much less emotionally incontinent than it was as a teenager. My judgement is better – I know better how to spot a folly, how to let an urge die away – but even so I know enough now to understand how much of the "adulthood" I heard on old records is a projection, their rueful poise well-tailored and well-lit.
That doesn't mean I love them any less. The mood and feeling of a pop record is as real as we need it to be when we're playing it. But it does mean that I hunt for something slightly different in the records I scan as adult now, and treasure it when I find it – relaxed tolerance, unguarded goofiness, the moments (rare though they honest are) of being genuinely unafraid of what others think. Dad rock no, Dad jokes yes.
James Ingram was, I learned this week, a Dad. Of six, married to his high school sweetheart until his very recent and very sad death. His breakthrough, It's Your Night, starts with a Dad joke, a song called "Party Animal" in which the highly more-ish funk groove is detourned by comical growls, less a lover on the strut than a parent playing peekaboo. It then goes into "Yah Mo B There" – unimpeachable, and the only Ingram song I knew.
And then – well – a suite of often slow, often very adult songs, sifting through the contents of a heart with an undramatic generosity. "How Do You Keep The Music Playing" explores a long-term relationship; "There's No Easy Way" is as kindly a break-up song as is reasonably possible. Ingram's voice is rich and trustworthy. A remarkable man, it seems.
So was Sylvester, whose "Step II" I picked because I wanted some disco to listen to on my flight home from New York, and it had "You Make Me Feel" on. Twice, even. The first version made his reputation – one of the most total expressions of ecstasy on record. The second plays the song slow, as a lush afterparty ballad, and sets the tone for the LP's back half, a set of imploring, often quiet-storm songs, full of flute, falsetto, and regretful, hopeful desire. If you're a fan of Prince and you haven't heard "Just You And Me Forever", get to it.
Quiet storm is mood music – for love, but also for its failure, for wrapped flowers and too-tidy sheets. It takes some of its cues from the romantic fog of easy listening, also often balanced between seduction and rejection. I used to have a bunch of Julie London twofer reissue CDs, but oddly none of them included her debut LP, a miracle of economy in the service of mood.
The smoky, after-hours vibe comes from London's soft sustained notes blurring with the echo from Ray Leatherwood's padding double bass, with Barney Kessel's darting, minimal guitar often taking the expressive lead while Julie wallows. The approach sidelines the lyrical content, drawing out phrases and letting them dangle while the vocal tones linger: contrast London's "It Never Entered My Mind", a scrabble bag of seductive fragments, with Sinatra's more controlled, meaning-first approach to that song.
Yusuf Lateef's thing was bringing in a host of Asian instruments to jazz (a category he got wriggly in as his career progressed) – on 1965's Psychicemotus though he mostly sticks to flute and sax. The restlessness comes from the sharp juxtaposition of Lateef's straight, sentimental versions of standards and classical pieces and his own, far more fidgety and jagged compositions. For all the whiplash it's a beguiling mix, and sometimes the approaches come together in disquieting ways, like on a flute version of Satie's "First Gynopedie" which Lateef plays as if picking his way through wreckage, the percussion pitching and tilting treacherously around him.
The rest of last week was taken up by yet more instrumental albums. The first is by analog synth producer Isao Tomita, whose Debussy LP, Snowflakes Are Dancing, became a minor obsession of mine last year. Kosmos starts with the Star Wars theme and includes exactly what you'd expect a synth-themed space LP from 1978 to contain – Holst's Mars, Also Sprach Zarathustra, and so on. It's terribly naff and full of delight, testament to the eternal appeal of hearing familiar things done a slightly different way.
What's interesting, though, is how the technology pushes it into droney and noisy areas which co-exist alongside the kitsch parts: "Hora Staccato" and "The Sea Named Solaris" break down into harsh, humming, buzzing synth tones. Like the Lateef record, there's a clash in mood which is productive, unlike the flat synth atmospherics of Zadig The Jasp, a "mallwave" act whose LP was the most disappointing thing I played. Tomita and Lateef arrive at strangeness obliquely – Zadig tries to hustle it up, like a psychogeographer on an LRB deadline.
Finally, the best thing I heard last week was a recreation of Sgt Pepper by assorted modern jazz artists – some Londoners, some of Kamasi Washington's band, a Wynton Marsalis protégé – even I know enough to realise this is a broad spectrum of players and approaches, from Mary Halvorson's tweaked-guitar avant-jazz ("With A Little Help From My Friends") to Keyon Harrold's meditative trumpet lines on "She's Leaving Home". It would work – was perhaps designed as – an entrypoint to contemporary jazz, a set of familiar things deformed in beautiful ways, snatches of well-known melody working like holds on a climbing wall. The variety helps push the set well beyond gimmick territory – after the Harrold track, the most conventional here, Brandee Young's "Mr Kite" is an aviary of fluttering harps and brushed drums through which Lennon's calliope melody stalks, catlike. Every door opens onto something new.
This album is part tribute, but more a salvage operation: the rock era serving as compost for all manner of strange growth. These are young people separated from the Beatles by time, genre, often race or gender, and – at last! – viewing their material without sentiment or resentment, but with pragmatic respect. If this music is to endure, the record tells us, we have to forget that the Beatles were special.
Comments
Add your comment
Top of page