29
Jan 19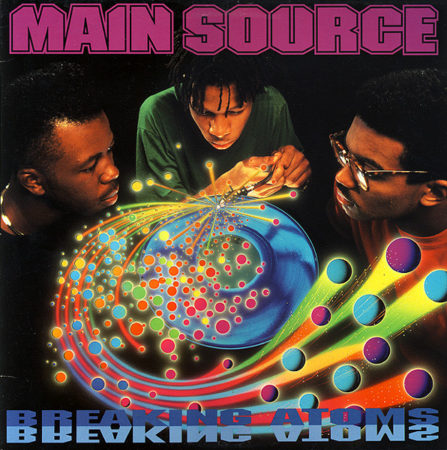 This is a document of my album-a-day listening project. Each entry originally comes out as a tinyletter and subscribers to that get intros and miscellanea as well as the LP reviews. When a new letter goes out, the previous letter goes up here. A fine arrangement!
This week's new to me LPs:
#13: Laura Nyro – Eli And The Thirteenth Confession (1968)
#14: Space Africa – Somewhere Decent To Live (2018)
#15: Dexter Gordon – Go! (1962)
#16: Junglepussy – JP3 (2018)
#17: Helena Hauff – Qualm (2018)
#18: Jackie McLean – Capuchin Swing (1960)
#19: Main Source – Breaking Atoms (1991)
Where and when you listen to new music is a critical variable in this sort of project. It could never be a set of balanced or considered reviews, because then what about a week like this? One where music was pushed to the crepuscular margins, listened to (for the most part) at low volume, late at night, aiming for the right balance between immersive and inobtrusive.
Some records inhabit that place perfectly. Space Afrika's Somewhere Decent To Live sounds designed to fill small spaces, crannies in the modern city (Manchester, in their case). In the bustle of day its lack of event would be frustrating – late, and quiet, the beatless, dubby pressure in their sound makes more sense. Other LPs prove surprisingly adaptable. Helena Hauff's clattering, muscular techno might be better in a more bracing, high-volume environment, delivering an icy January shock – under the duvet, late at night, the rackety rhythms have the same comforting steadiness of near-passing trains.
I tried a Laura Nyro LP as part of the 2017 experiment, and Sarah's enthusiasm led me to try again. With not much difference in results – there's something too fragmentary for me about her music and songwriting, a feeling like I'm looking at a heap of gorgeous mosaic tiles rather than a series of pictures. Or maybe eating a 30-course taster menu. Of course I can't tell if this is because she's not my thing, or simply that one listen isn't enough to get a coherent handle. Or perhaps that this was a hunkering down kind of a week, and more demonstrative pop didn't stand a chance.
This week's jazz LPs, next. When I said I picked new jazz albums to listen to based on the sleeves, someone said, oh, you must listen to a lot of Blue Note records. I expect I do! Both this week's choices were early 60s Blue Note LPs. While it wasn't as instantly seductive to me as Lester Young was last week, I really liked Dexter Gordon's Go!; listening again it feels like good Monday music, lively and caffeinated. Even the slow numbers (eg "Guess I'll Hang My Tears Out To Dry") have a kind of wiseguy swagger to them.
Jackie McLean's Capuchin Swing – picked because there is an monkey on the sleeve! – was harder going, his sax lines darting and jabbing this way and that, like an impatient guide hustling you through a city you don't know. I liked it more when the rest of his band were playing – which is perhaps a sign I'm gingerly learning how to listen to this music a little more… anyhow, Art Taylor's enlivening drumming can serve as a springboard to adventures next week.
Finally, the records I enjoyed most this week – two hip-hop albums, one old school classic and one from the glut of modern product. Main Source's Breaking Atoms I had as a collection of MP3s but never pulled together into an album – at the time it was out of print, a spell in vinyl pokey which grew its legend no end. It was as instantly enjoyable as I hoped it would be – chunky samples, large beats, twisty rhymes about interesting things (police-violence as sport metaphor "Just A Friendly Game Of Baseball" for instance). A real delight of a record.
And JP3, the short third LP by New York rapper Junglepussy, who has a languid, taunting flow which suits her diss tracks wonderfully, but the record goes deeper than the initial slams and smut. (Just as well, with chorus hooks like "Feelin the dick / All up in my armpit") Junglepussy is really good at filling out the emotional context around all the banging, for one thing – "Silly conversation / making silly conversation", starts one track. And her sex tracks can suddenly bring you up with little journalistic details, like "Trader Joe"s sketch of going to a new partner's family BBQ. Plus the music she's rapping over – soft, lush, vibey, melodic R&B – is a treat. One of last year's most downright likeable records.
Add your comment
Top of page