11
Apr 20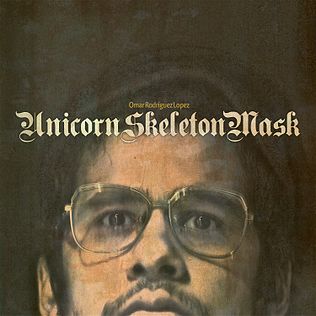 Despite knowing that attempting to construct a linear timeline for the solo work of Omar Rodríguez-López is a self-confessed fool's errand, I'm nothing if not stubborn and continue to obsessively trace connections across songs and albums. I've now shifted to wanting a Viso-style flowchart or, if I had the artistic ability, something more akin to a series of interlocked family trees.
Unicorn Skeleton Mask is the central trunk that branches out to several other albums. Initially, it totally passed me by, and when I finally did hear it, I felt I'd cracked a cryptic crossword clue. Every song featured here apart from one has been released in a different form on the albums Zapopan, Zen Thrills and Corazones, with elements of some tracks appearing on Some Need it Lonely, ¿Sólo Extraño? (which itself was then reworked as Nom de Guerre Cabal) and Weekly Mansions. I am not confident, but it may also possibly share some elements used in the keysmashy sequences of Octopus Kool Aid. On top of all that, two songs appear in demo form on the Ramrod Tapes. It's like the textbook definition of a seminal ORL album.
Here's the above, broken down into a table format:
USM title

Other version(s) title

From the album

Storm Shadow

Random Bouts of Shadow

Zapopan

Happiness

Reap the Roots/Tandem Happiness/Fielding Souls

Happiness – demo

Zapopan




Ramrod Tapes

Right of Way

Sanity a Dream

House in the Sand

Life Proves Its Worth

Some Need It Lonely

¿Sólo Extraño?

Nom de Guerre Cabal

Sea Is Rising

Sea Is Rising

What's Left In You

Sea Is Rising – demo

Corazones

Zapopan

Ramrod Tapes

Tenessee

With You If You Give a Damn

Invisible Laziness

Bitter Sunsets

Various

Zen Thrills

¿Sólo Extraño?

Nom de Guerre Cabal

Octopus Kool Aid

Maria Te Canta

If It Was a Snake It Would Have Bit You

Zapopan

Remember

Scream, What Do I Do

Zen Thrills

Names

n/a

n/a

Bored to Burns

Drown It All, No One Will Miss It

Want, Need, Scream In a Dream

The Editor

Common Condescend

Quemamos Lo

Zen Thrills

Weekly Mansions

Weekly Mansions

¿Sólo Extraño?

¿Sólo Extraño?

Careful Me

Harboring A Sadist

Zapopan
Some of the above information can be found scattered across various Wikipedia pages, and I am really not sure about the connection to Octopus Kool Aid, but this is the best Unicorn Skeleton Mask at-a-glance view I've managed to construct. And since doing so, I haven't listened to it very much – or at least, not these versions.
It's not because I dislike it or think the songs are rubbish – "Sea Is Rising" features in my all-time top 20 ORL tracks – but because the vexing production makes it sound like it's been recorded from a tin can that's been stuffed with rags and sauteed in a little mud. This seems to be a feature of synthy, mid-era ORL – as noted by Kazza3 on Prog Archives: "he has taken to singing almost mumbled vocals, which are then distorted and run through effects so as to make them completely undecipherable – rendering them more like another instrument. Albeit an annoying one, according to many." I'm of the many (not the few?) on Team Annoyed – the songs sung in a higher register in particular make me want to snap "No one can hear A GODDAMN WORD YOU SAY!" à la Jack to Meg White in Under Great White Northern Lights. 
It's frustrating, because nearly every song has something in the mix I find beautiful. On the aforementioned "Sea Is Rising", there's a sensual, echoey sigh that manages to encapsulate all the melancholy of a codependent relationship that neither party can bring themselves to end, but this version is crowded out by effects. The crunchy punch of "Happiness" often brilliantly cuts through spikey synths, but the sludgy vocals spoil the overall texture and sound more like a rough-cut demo than the actual demo featured on the Ramrod Tapes. The lyrics of "Careful Me" are sheer poetry – or they would be if you could make them out. 
Having said all that, there are some tracks that are definitely best served raw and messy, "Maria Te Canta" being case in point. Though the title translates to "Maria Sings to You", the chorus "Maria!/Yo te canto esta canción" means "I sing this song to you", which pleases me in ways I can't quite define. Zigzaggy synths stab through muffled jangle in a way that complements the sardonic lyrics. The vocals are frizzy but (mostly) comprehensible and suit the bitter snippiness of the song, the guttural grunts at the end being the rare instance where I actively enjoy vocals-as-instrument on this album. 
I really want to like Unicorn Skeleton Mask more than I do, which is why I intermittently return to it, but for the most part, I can't help but think of this album as a collection of inchoate versions of subsequent, superior songs. I actively love distortion and reverb, and using vocals as instrumental fuzz, but here it's all much of a muchness. It feels like the equivalent of a superhero origin story that gives context to a complex, multiple volume arc, but which is in fact pretty boring when compared to the action-laden sequels it spawns. 
Track listing:
Storm Shadow
Happiness
Right of Way
Sea Is Rising
Tenessee
Maria Te Canta
Remember
Names
Bored To Burns
Careful Me
Add your comment
Top of page