17
Jul 18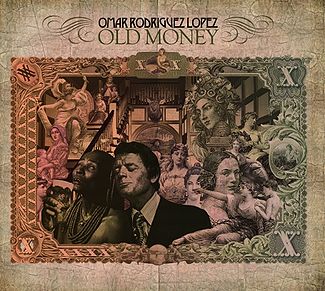 Old Money is like a crazy quilt with no immediately discernible pattern upon first inspection. There's so much happening, it's impossible to take it on all at once. The riff-squares are stitched together with your typical rhythm section, plus woodwinds, plenty of added effects, and some more unusual rock instruments, such as clavinet, wurlitzer, and theremin. As in much of Omar's early solo work, however, the guitar is the star. It's the seminal ORL sound – ORL Original Recipe, if you will.
And you should, because Old Money's rock-out guitar A swirls tauntingly around guitar B's wah-wah, creating an ecstatic hurricane of beautiful noise to become swept into. Although it's not his first solo release, it was the first I ever heard and feels like the most appropropriate place to start, and listening to it feels like coming home for me. It was nearly a follow up to the Mars Volta's Amputechture and in many ways feels like homework for The Bedlam In Goliath. I'm reminded of those heady days of new fandom, that first flush of obsessive love. Though it would be inaccurate to say that it's the gold standard by which all other releases are measured, it does serve as a kind of guitar-oriented litmus test, and I sometimes categorise other albums based on how Old Money-esque they sound.
It's so densely patched that there isn't much room left for vocals, and the addition of Cedric Bixler-Zavala's dulcet tones would have made this another TMV album in all but name, especially considering the presence of Volta stalwarts Jon Theodore, Juan Alderete, Adrian Terrazas-Gonzalez, Deantoni Parks, and Marcel Rodriguez-Lopez. Cedric does appear, drumming on "How to Bill the Bilderberg Group", but that doesn't really count in my book. As an instrumental offering, it was initially hard for me to match the concept of "exploitative industrialists, and, well, their old money" with this wall of sound, apart from the song titles. But like Frances the Mute, the concept is more of a framework for the listener to develop their own interpretation and thus construct their own narrative.
What I love most about Old Money is the sense of urgency woven throughout; searing guitar zips maniacally around a jazzy wah-wah foundation. An oft-used ORL device is to sandwich intense-fast songs with comparatively chilled breathing space tracks, like semicolons breaking up long-ass sentences. "The Power of Myth" swaggers confidently around squelchy synthesizer at breakneck speed, followed by the slightly jarring not-vocals of "Bilderberg", and this is repeated throughout the rest of the album. "1921" features "TV and effects", which sound a lot like sleigh bells and which I find hilarious. Samples are well deployed, as in "I Like the Rockefellers' First Two Albums, But After That…" where fuzzily distorted dialog from an acid western blends into the mix, highlighting the ridiculous pomposity of its central theme.
Old Money song titles come from a long line of eccentric monikers – "Population Council's Wet Dream" was developed from a long improvised jam called "Abortion: The Other White Meat". "Vipers in the Bosom" features a rattlesnake-like intro, a venomously taunting hint of the evil plottings depicted. Woodwinds in "Trilateral Commission as Dinner Guests" hint at Amputechture past. Nearly ten years on, I am able to picture a smug selection of well-heeled folk sipping expensive champagne as they loftily discuss international relations, wholly removed from the realities of the common dude, crashing out with a drunken roar of laughter as deals are sealed over a clinking of crystal flutes. Usually I'm pouring over Cedric's cryptic lyrics to decipher the story; here I'm crafting a visual out of the music.
But it's title track "Old Money" that I return to the most. This is the biggest piece of Original Recipe ORL, the nucleus containing all the themes and motifs of the album and book-ending it with a joyous riot of instrumental mayhem. Half the song is taken up with an anxiously coiled intro that gradually springs into some very Bedlam-y drums. Again, guitar A's pure rock is ably supported by guitar B's jazzy wah-wah; it's a song that demands volume up to 11, climaxing into a whooshy end that always leaves me beaming.
Despite the dark concept, it feels like a jubilant celebration. Old Money's crazy quilt of tightly controlled chaos and eerie quiet is like wrapping a comfort blanket around my psyche. When I listen to it, I can almost pretend that someday I'll embrace my brain's deeply entrenched weirdness; that someday I will quilt all these disordered thoughts into a whole piece – frantically busy, and impossible to take on all it once, but with a beautiful pattern, if you give it time. It makes me happy to be alive, a lifesaver to cling to when I'm feeling lost, afraid, and alienated.
Track listing
The Power of Myth
How to Bill the Bilderberg Group
Population Council's Wet Dream
Private Fortunes
Trilateral Commission as Dinner Guests
1921
Family War Funding (Love Those Rothschilds)
Vipers in the Bosom
I Like the Rockefellers' First Two Albums, But After That…
Old Money
Add your comment
Top of page