10
Jan 18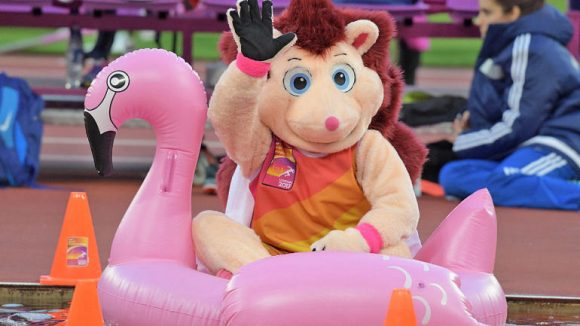 "Hullo! I'm Hero, the naughty hedgehog mascot of the 2017 World Athletics Championships. You thought I was mute, didn't you, just because I was holding up all those Bangface-style signs? In fact I was merely SILENCED by the authorities. Unable to accept my wacky brand of slapstick humour and terrified that I would reveal the TRUTH about the Olympic stadium, they turned off the microphone I stole from Iwan Thomas just as I was getting to the juicy bits. The scandal came out eventually so now I'm free to say whatever I like! The MAN will feel the sharp end of my barbs now! I'll make them wish they never used the Benny Hill music over all my highlight reels!"
Thanks Hero. Maybe there's a good alternative theme for you in this batch?
30. Slowdive – "Star Roving"

JANG JANG JANG. I got my first ever guitar pedal for xmas (I've had effects boxes before but nothing you could activate by stomping on with yr foot) and I am a little worried that it was a portent foretelling the major influx of INDIE in the poll this year. Anyway shoegaze is apparently back and Slowdive are indeed looking down at their pedals wondering which one to press next.
29. Blanck Mass – "Rhesus Negative"

What a racket. This is what my parents think 'the youth' are listening to while hanging around in shopping centres. I haven't the heart to tell them.
28. Lil Uzi Vert – "XO Tour Lif3"

Not exactly a celebration of glamorous/outrageous backstage antics – instead Lil has stumbled into a low budget horror movie, where all his mates have been offed in the pre-credit sequence.
27. St Vincent – "New York"

I can't imagine that cabbage candle smells very nice.
26. Wolf Alice – "Don't Delete The Kisses"

Well I applaud their commitment to not forking out for a taxi. A sugar-sweet rush of teenage emotions, both up and down.
25. The Magnetic Fields – "'83: Foxx and I"

Do YOU ever dream of being in Soft Cell and going on Top of the Pops? Well, to get there, firstly you'll have to play to 4 people in the Dublin Castle, and they'll all be folks from the other bands on the bill minus those who went out for chips. Secondly.. no, I think that's it. Good luck!
24. St Vincent – "Los Ageless"

Another brightly coloured video, but this time with a devastating (and catchy) chorus.
23. Clean Bandit & Marina & The Diamonds – "Disconnect"

Here's the sporting montage music, as promised! This falls into the 'People Who Got Injured At The Olympics But A Competitor Helped Them Round The Track, It Is The True Meaning of Sportsmanship' category. It feels very 2012: I half expect Labrinth to rock up for the middle 8.
22. MUNA – "I Know A Place"

Like if La Roux had less grating voice and a better haircut (but worse trousers).
21. Cardi B – "Bodak Yellow"

Cracking slice of rap braggadocio that should probably be avoided if you work on a submarine radar station. I was completely unaware of Cardi B's Instagram fame when first heard this (on a Sunday afternoon at a very pleasant middle-class picnic), but I have since signed up to The Gram myself and regularly post pictures of the cat.
#20-11 coming soon!
Comments
Add your comment
Top of page