18
Jan 18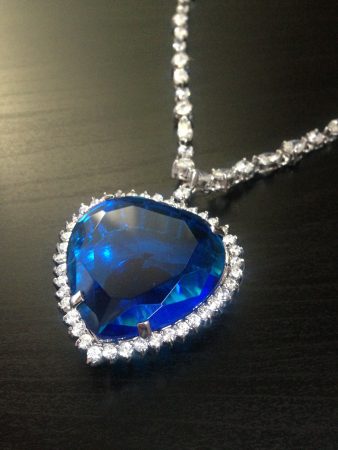 "Hi there, I'm the Heart of the Ocean, a fictional diamond necklace made famous by Britney asking whether I'd been chucked in the Atlantic Ocean or not when actually I was on MARS. My higher than average refractive index means I have an angle on everything! I've often wondered whether Britney has actually seen Titanic all the way through, or if like me, she dozed off in the middle and forgot that (SPOILER ALERT) the old lady was actually Rose all along!!! I don't know why Billy Zane bothered giving me to Britters anyway, I ended up living in an ophidiarium for 80 years with that anaemic snake. But enough about Matt Damon and that Martian igloo (o-ho), my heart must go on – with the poll results!"
Thanks very much, The Heart Of The Ocean if that is indeed your real name and you are not one of the 3 replicas made for the duration of filming. Here's the next batch:

=19. Rina Sawayama – "Cyber Stockholm Syndrome"

No number 20 as there's a tie for 19th place! Rina starts off all early-2000s RnB minimalism (complete with fisheye lens), then ramps up nicely into synthageddon at the end. I suspect this song may be a metaphor for the perils of Bitcoin?
=19. Jessie Ware – "Midnight"

I like the spindly Kate Bush verse much better than the Benny and the Jets thump of the chorus.
18. Calvin Harris ft Frank Ocean & Migos – "Slide"

Harmless Fresh Prince summer funk. I don't feel like I can give a true judgement on the quality of this song in January.
17. Angaleena Presley – "Wrangled"

"I'd rather eat dirt than bake another prize-winnin' cherry pie." You won't get a Paul Hollywood handshake with that attitude young lady.
16. SZA – "Supermodel"

SZA turns a #feelingsdump into a glorious trip-hop Fuck You.
15. Steps – "Story of a Heart"

If it wasn't startlingly obvious from the ping pong melody line and unresolving chorus phrasing, this is a cover of a Benny & Bjorn song from a few years ago. A perfect choice for Steps 2.0 of course (they've even drummed up a dance routine you can manage with gammy knees) but I think it would also work well for my Mum's barbershop chorus.
14. Ibibio Sound Machine – "Give Me A Reason"

I bet the Nigerian Pop World Cup squad are delighted that this lot have put out a whole album of bangers to choose a striker from.
13. Saint Etienne – "Dive"

Club Tropicana drinks are free! Friends Of The Blog™ St Et are back with the chicken marengo, this time in sunny Scarborough (with a hint of Portmeirion symbolism, if you know what I mean).
12. Big Shaq – "Man's Not Hot"

One of my 2017 faves. Difficult to listen to without thinking of that advert where the women all greet each other with their elbows glued to their sides to avoid displaying their soggy underam patches.
11. Kendrick Lamar – "DNA."

Kendrick crams in a hell of a lot into three unapologetic minutes – lots of votes had for other album tracks too, but this one was way ahead.
Top 10 coming soon!
Comments
Add your comment
Top of page