9
Dec 17
My first ever taste of a Boots sanger was in Sheffield nearly twenty years ago. I was still learning which shops sold lunch goods convenient to my work, and seem to recall being mildly surprised you could get sandwiches from Boots, although I don't know why. I suppose I was still noticing the differences between Wisconsin equivalents as I'd only recently been installed permanently in the UK, and I couldn't think of any pharmacies in Wisconsin that also sold lunchtime meal deals.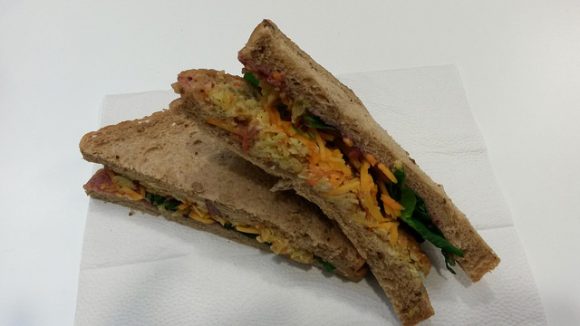 I was particularly grateful for an option that wasn't the usual cheese or egg based offer, the Mexican bean wrap. I think this may be the first time I'd ever seen Mexican-stuff-in-a-tortilla called a wrap rather than a burrito (or used as sandwich bread: whoa), but I was happy to sample something new. I was sadly disappointed – it was cold and bland. Nonetheless, I was grateful that it existed when I was lacking in lunchtime veg options. Upon reflection, the thought of a cold burrito makes me want to gag, so it's really no wonder I didn't dig the bean wrap and still don't.
The fact that there are no less than eight vegan xmas sandwiches sampled for the calendar makes me very happy indeed, although I haven't had the chance to try them all (yet). I haven't had cause to settle for half frozen disappointment-flavoured lunch in a long time, so I'm very surprised to find that the Boots offering is my favourite so far.
It's sweet but not overly so, the shredded parsnip matching well with the butternut squash. There's chutney – just enough, not too gloopy, and a pretty decent granary bread to rival Pret's. It also helps that it's £2.75 or £3.39 in the meal deal. I had some of those baked crisps and juice which would have been £2.30 more – huzzah, the meal deal pays off!
Ewan also rates this highly, commenting on the competing textures and flavours. However the curse of the too cold Boots fridge struck Kat, who missed out on the full sanger potential, noting that it was ENCASED IN ICE.
Comments
Add your comment
Top of page